Jenny Armocida – Team Highlight
There are some incredible things going on in 6th grade right now. Students are preparing to present on their businesses they created as part of our Rainbow Marketplace on April 27. Recently, 6th had Peace Awards Ceremonies, and have done other incredible things this year such as Pi Day, and a Mayan bartering marketplace, to name a few. We thought we'd take a moment to highlight Jenny Armocida for our Team Highlight this month. She's our 6th grade teacher who will also be leading a "Staying Sharp Summer Camp" here at Rainbow. Cynthia recently sat down with her for a teacher interview.
You're originally from Ohio. How did you end up at Rainbow?
It's true – I'm originally from Ohio. I went to school in Sarasota, Floria but it was too hot. So I moved to Nyack, New York. But that was too cold. So I came "to the middle" to Asheville and it was just right! I had learned about this amazing school called Rainbow and I knew that wanted to teach there. In order to teach there, I had to move to Asheville. So yes, I moved here specifically to teach at Rainbow!
What made you decide to become a teacher? How long have you been a teacher?
I have been a teacher for nearly 12 years, specifically as a classroom teacher. I chose it as a profession because my favorite things are learning, asking questions, being curious, exploring the world around me, and I also like being with young people. They're also really curious and creative. The best job I could have that would allow me to do all these things was to be a teacher. An added bonus is that you get to learn right alongside your students.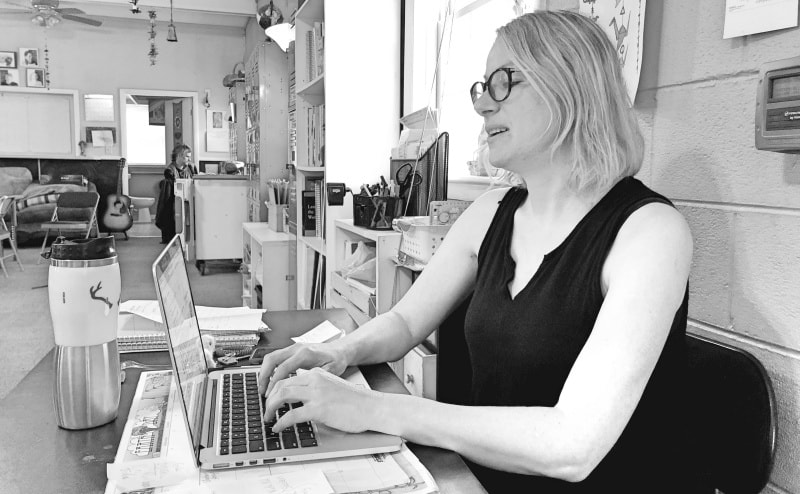 What's the hardest part of your job? The easiest?
The hardest part of my job is knowing that you're never really finished with it. So if I'm at my house or on vacation, I'm always thinking about my job: ideas for lessons, new things to try, that sort of thing. That can be really fun, but sometimes it's challenging to take a break from my "teacher self."
The easiest part is, well, what's most enjoyable, is definitely the relationships I develop with my students. I get to know them and enjoy being with them. I get to try so many new things.
You recently had Brother Wolf come to your classroom, as well as held a Peace Awards Day. In addition, students will be tackling their small business enterprises that are also socially beneficial. Where do you get all your creative ideas for lessons and units?
I think that I am really inspired by working with all my colleagues who are so innovative and inventive. I see them pursuing their interests, sharing the best of themselves, their ideas, and passions. That compels me to look inside myself to see what's important. Then I think about how I'd like to share all that with my students. I also enjoy doing whatever small things I can to make the world a better place. The result is that I naturally incorporate those ideas into the curriculum.
You were also recognized in 2015 with the Leavey Award for leadership in entrepreneurship education. Can you tell us more about that?
The award came from the Leavey Foundation. They recognize teachers who develop entrepreneurship curricula. I shared with them the small business projects my Rainbow students created. I also let them know that our students present their businesses at the Rainbow Marketplace. The requirement is that these businesses are also socially beneficial. The Leavey Foundation liked that because I found out I had won their award.
As an award recipient, I got a chance to go to New Orleans where they held a social studies conference. I learned about other people who were teaching entrepreneurship programs. However, I was the only middle school teacher there – the rest were high school teachers. I was happy that I could share that it's not just something that older kids can do. Middle school students can create businesses, too.
What is your favorite subject to teach?
That is hard! We're fortunate here at Rainbow that we have integrated lessons that incorporate so many subjects – so it's varied. But, my personal passion is literature. I'm a big reader – I love fiction and I like to write for fun. I also really love doing the entrepreneurship projects. I enjoy history and one of my favorite lessons is when we turn the classroom into a "middle ages feudal system." There are so many things that I enjoy teaching. I can't pick, so I'd have to say them I enjoy them all!
What book are you reading? (Or, what is your favorite book?)
I just got back from Cuba (over spring break). Because of that, I've been reading a lot of Cuban writers lately. Right now, I'm reading Dreaming in Cuban by Cristina Garcia. The other awesome book I've read lately is called, Sisters Brothers by Patrick DeWitt. It was really compelling and a humorous read.
What is something that you're interested in that most people don't know?
I had a month where I was briefly interested in "tiny cooking." That has since passed. But really, I love needlefelting. This is an art form where you use a "wad of wool" and a needle. You basically sculpt the wood and make forms out of it. I've made birds, tiny people, tiny hamburgers – they're all very small. I love to make little creatures on a tiny scale. I once made a terrarium with tiny needlefelted animals inside and gave it away as a gift.
What's the farthest you've traveled from home?
I would have to say that one of the farthest placed I've traveled was when I went to Iceland. I also went to Germany another time. Iceland, however, convinced me that I should only do beach vacations, though.
What is something that everyone should do at least once in their lives?
People should spend the day with a group of sixth graders. You will learn many interesting things and ponder questions you never thought of before. You will also laugh A LOT.
What are two items on your bucket list?
I've never done karaoke. Someday I'd like to try that. I'd also entertain the idea of owning a pet goat – just for the pure joy of it. I'd like a pygmy goat specifically.
If you could talk to any person, living or deceased, for half an hour, who would it be?
I would talk to the Dalai Lama. I feel like he's very wise and seems to have a joyful sense of humor. I think it would be fun and enlightening.
What advice would you give to your 6th grade self?
I would definitely tell myself just to be authentic and true to who I am. I'd also say to follow my interests and passions and not to worry so much about what other people think.
Well there you have it, friends. A great interview with Jenny. We're thankful she took the time to have this interview and share with our Rainbow family!