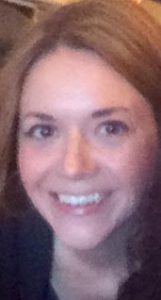 In 2014, Gaby and her family traded the cold of Chicago, Illinois for the scenic, mountainous, beauty of Asheville, North Carolina. Even before making the difficult decision to leave, Gaby began to seek out a unique learning environment, both for herself and for her son, when she came across Rainbow's website. As she learned more about the seven domains and the holistic approach used to address the needs of each individual student, she felt she had found a place to call "home".
Gaby previously taught kindergarten, second and third grade bilingual education for three and a half years in Aurora, Illinois. Her parents are educators who traveled throughout Latin America and Spain who developed programs of study and financially assisted the rehabbing of a school. Gaby is very passionate about the bilingual/dual language model, and diversified student populations having access to equal educational opportunities.
Bilingual and bicultural, Gaby is Peruvian, but was raised alternately between Costa Rica, where her father's family lived, and the United States. She also has family in Peru and Spain and relatives from various countries of the Hispanic world. She has spent considerable time in Peru and Spain. Gaby credits her childhood with having shaped her worldview that, "education is your passport to the world." She is eager to be involved with Rainbow students as they further develop their growth and overall understanding of language and the powerful place it has within that "passport."
Gaby holds a Bachelor's degree from Mars Hill College in Spanish Literature with a minor in creative writing.  She earned her Master's Degree in Elementary Education, K-9, from Roosevelt University and went on to earn her Transitional Bilingual Certificate.  In addition to teaching, she has served as the primary translator for the school in which she taught, and was the primary liaison/teacher involved in the creation of a parent/family ESL program designed to enhance student support in the home.
Among Gaby's other loves are her family, travel, zumba, reading, writing and singing, which she does in North Carolina and the Chicago area.
You can reach her at:  Gabriela.Pantigoso@RainbowLearning.org