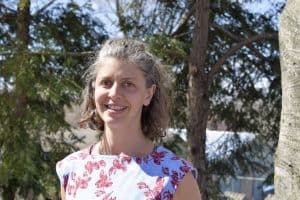 Lucy MacGregor completed her undergraduate studies in Sociology/Social Work at Oglethorpe University. She worked for many years in experiential education settings where children were guided to learn through direct and meaningful experiences with the natural world. After having children of her own she discovered her deep interest in early childhood education and decided to train in Montessori education. She earned her Early Childhood Montessori credential through The Center for Guided Montessori Studies and taught at Swannanoa Valley Montessori School for six years in the Children's House.
Lucy believes that early childhood is a sensitive and powerful time in a child's life as he or she learns and grows through hands on exploration with the environment. She creates a rich and nurturing learning space where children can explore their interests, discover the wonders of the world, learn about themselves, and develop friendships.
Lucy playfully brings mindfulness and yoga into the classroom. She is a certified Children's Yoga Instructor. She is also trained through Mindful Schools in sharing mindfulness with children and adolescents. She has found that children enjoy connecting with their inner life through these methods.
Lucy's own childhood was spent in Northern Ireland where she grew up. Her family immigrated to the United States in 1984 and settled in Virginia. She lived in California, Oregon, and Colorado before moving to North Carolina to work with North Carolina Outward Bound School. Her roots and family have grown here in North Carolina where she shares her life with her husband, Jay, her children, Elijah and Rowan, and their many animal friends. Lucy enjoys sleeping under the stars, hiking, rock climbing, and floating down rivers. She is honored to be part of our community and to pass on the good that she has been gifted through her relationship with her teachers.
You can reach her at: Lucy.MacGregor@rainbowlearning.org