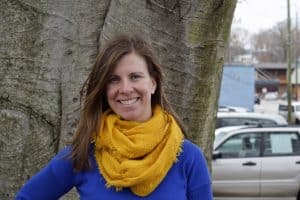 Susie holds an undergraduate degree from the University of Vermont in Elementary Education, and a MA in Special Education from Western Carolina University, graduating with honors both times. She has ten years of teaching experience prior to Rainbow, including lead kindergarten teacher and three years as a fifth grade lead teacher. She has also taught as a special education teacher and reading specialist in all the elementary grades.
Susie has administrative experience as the designer and head of the Title I program at North Windy Ridge Elementary School in Buncombe County which serves over 600 students. In addition to monitoring the reading progress and programming there, she provided professional development for the whole staff.
Most of Susie's teaching experience is here in Asheville.  However, she has also taught at the International School of Amsterdam, an International Baccalaureate school. In addition to teaching at Rainbow, Susie has served as an adjunct professor at Western Carolina University. She prepared young educators to meet the diverse needs of students that they will encounter in the classroom.  Susie's other experiences include being a teaching fellow for Citizen Schools, serving as an Americorps VISTA worker, and many other great experiences that demonstrate she is extremely active, caring, and well-rounded.
Susie was chosen Teacher of the Year in 2009 at North Windy Ridge and nominated for North Carolina Teacher of the Year.
Susie creates deep relationships with children and adults; is incredibly patient, but firm; and knows how to reach every child. Susie demonstrates very creative, engaging curriculum planning and a remarkable understanding of our philosophy at Rainbow.
Susie is the faculty representative to the board, and will be serving as the professional development coordinator for the 2016-17 school year.
You can reach Susie at: Susie.Robidoux@RainbowLearning.org