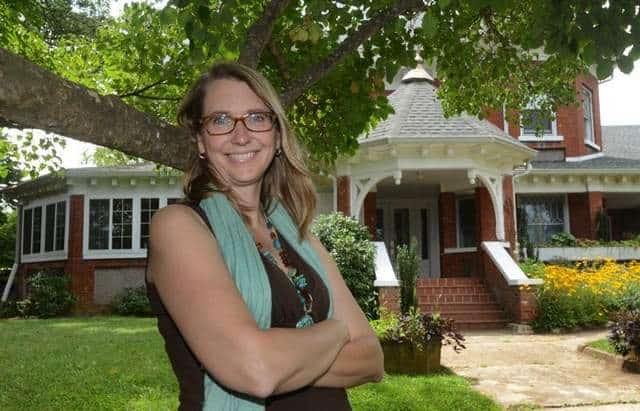 Dr. Renee Owen – RCS Former Executive Director
Educational Background and Experiences
Dr. Renee Owen became executive director at Rainbow Community School in July of 2007 through June 2020. Renee received her Doctor of Education from Columbia University, Teacher's College, in Organizational Learning and Leadership. Her research is in holistic educational practices and teacher development. Her dissertation is titled, "Learning that Meets Life, The Lived Experience of Teaching with Secular Spiritual Pedagogy."  Her Master's Degree is in Educational Leadership from University of Colorado, Denver. Her undergraduate degree is from the University of Michigan in Art. She also holds an Executive Certificate in Non-Profit Management from Duke University and a Waldorf Foundations Certificate from The Center for Anthroposophy. She completed the 2013 Future of Learning program through Harvard Graduate School of Education, and she is currently developing her skills as a leadership coach. Renee is truly a life-long learner. 
To read more about Renee's fascinating life journey as an activist and educator, The Asheville Citizen Times did a full feature article on her a few years ago, which we recommend. We also recommend reading Dr. Owen's director's blog.
The Strengths of Rainbow
Renee recognizes that one of Rainbow's greatest strengths is the incredible amount of love expressed throughout the school. Here, children feel safe to explore and express themselves. Parents feel connected and supported. Teachers are encouraged to take risks to create magical and meaningful learning experiences. Relationships are rich. She jokes, "It's impossible to get through a day at Rainbow without a hug!"
Leadership Vision
Under Renee's leadership, Rainbow experienced a re-visioning and a huge expansion, which started with a revised academic program. Renee knew that she was hired to maintain all that is magical about Rainbow, while building a cohesive P-8 curriculum that is academically excellent and allows all types of learners to soar. During her tenure she built a faculty that she calls the dream team:  "The character and skill of our faculty astounds me. It has been gratifying to work with them in building the academic program that is an innovative balance between rigor and harmony with child development. We have exceeded my expectations — our academic program is, in my view, the finest in the region, and incredibly inclusive. Rainbow students should be accepted into any program they apply for and able to pursue all their life dreams."
A Changemaker School
Renee's shared leadership style ushered in numerous enrichments to Rainbow's philosophy and programs with the help of the brilliant faculty, an insightful board, involved parents and, of course, the children. She and a core team became trained facilitators in Dynamic Governance (also called Sociocracy), which ushered in a new era of self-organizing governance to Rainbow. The resulting innovation that followed is partly what led to Rainbow being named an Ashoka Changemaker School. Dr. Owen is a contributing author of "Changemakers, Educating with Purpose: By Educators and for Educators," written in collaboration with Ashoka. As a shared strategic-planning process, Renee and the board also led the school in a multi-year appreciative inquiry process to develop Rainbow's current mission, method, and principles. Always a team-builder, Renee also collaborated to start Rainbow's holistic counseling program and the extensive student support program, serving students with dyslexia and other learning differences.
Expansion
Under Dr. Owen's leadership, enrollment steadily increased, leading to a need for campus expansion. Thanks to community fundraising efforts, she led the school in purchasing additional property, tripling the size of Rainbow's grounds and facilities. Rainbow's campus now encompasses five and a half acres, nine buildings (including the beautiful auditorium and community center), an athletic field, extensive gardens, and Rainbow's award-winning imaginative and nature-oriented playground.
Diversity
All of this success was fertile ground to dramatically increase diversity and push for true inclusion of a wide demographic at Rainbow, something Renee considers an imperative. Many years ago, she tripled the amount of financial aid available, declared Rainbow an affirmative action school, and hired Rainbow's first equity director. Whether a family lives in public housing facilities or the Biltmore, we work to have a campus and culture where every family has much to contribute and much to receive. Under her tenure Rainbow has created "Love in Action," which offers wrap-around services for the needs of Rainbow families. Love in Action partners with Manna Food Bank and Patchwork Urban Farms (which grows on campus) to provide healthy food for 30 families weekly, plus numerous other services. Rainbow is now a leader in making Asheville a more just and equitable city, and we train other schools and organizations in equitable practices and racial identify development for children and adults. 
A Model School
Finally, Renee saw the vision for Rainbow to become a model school and training ground for educators, counselors, and non-profit leaders. She and West Willmore founded Rainbow Institute as the adult education arm of Rainbow Community School. Rainbow Institute has hosted three dynamic conferences called More Than Mindfulness, and RI offers holistic training and consulting in equity, mindfulness, social-emotional learning, self-organizing governance, school start-up, and more. Through Rainbow Institute, Dr. Owen and Ms. Willmore are fellows with the Collaborative for Spirituality in Education, an organization founded by Lisa Miler, clinical psychologist at Columbia University and author of The Spiritual Child, sharing best practices in spiritually supportive education.
A Celebration of Life
In her daily encounters, Renee is continually reminded that Rainbow's approach to education is as much a celebration of life as it is a celebration of learning. Each school day provides new opportunities for discovery, contemplation, collaboration, creative expression, playfulness, peacemaking, and connecting with the natural world.
Prior to joining RCS, Renee founded and directed Paradox Valley School, a charter school in southwestern Colorado. During her eight-year tenure, Paradox Valley School won numerous national and state awards for excellence in teaching, student academic achievement and in the arts.  When her family chose to move to a more populated area, Renee was captivated by Rainbow's holistic curriculum. To read more about Renee's previous educational experience and her  journey to Asheville, please read the Mountain Xpress feature article "From Hawaii to Paradox to Haywood Road" published in 2007.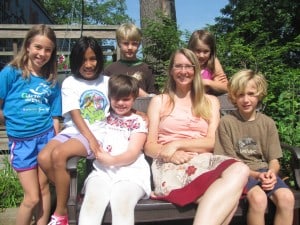 When Renee is not serving her larger school family, she savors the opportunity to spend time with her husband and three adult children. Her oldest daughter is an organic farmer and manages a food co-op in Colorado. Her youngest daughter attends college at UNC-Asheville, and her son is a student at Chapel Hill. Renee is personally committed to social justice, peace, and environmental sustainability, and works toward these causes with her family. She was awarded by the mayor of Asheville the Strive Not to Drive Leadership Award and was Person of the Week on WLOS. She and her husband relish quiet moments on the river.