Rainbow Community School
is a private, independent school serving about 42 preschoolers and about 150 students from kindergarten through eighth grade in Asheville, North Carolina. For more than 35 years, we have been a national leader in alternative, holistic and mindful education.
Learn more about us.
Thank you!
Over 80% of our families and 100% of our staff have participated in the Combined Campaign! Please help us meet our goal of $200,000 by December 19th and pledge today so that we can complete renovations of the Omega classrooms and auditorium space, and to support ongoing campus operations.
Pledge Now!
Home Campaign Window
Latest News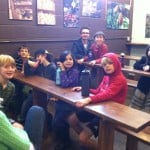 The Legend of Chocolate The third grade class just completed a unit on the Legend of Chocolate in Spanish. Their Spanish teacher, Cynthia, worked with West, their third grade teacher, to create a unit that would complement what the students were learning in their main classroom. Students studied about how […]