Rainbow Community School
is a private school serving about 200 students, preschool through eighth grade in Asheville, North Carolina. For more than 35 years, we have been a national leader in holistic and mindful education.
Learn more about us.
Latest News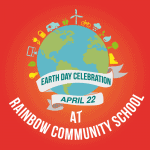 In the spirit of community and collaboration, the 1st grade Cheetahs and the wonderful Ms. Sue Ford combined their efforts for an Earth Day Celebration and Song Circle yesterday. This celebration was a great success. If you missed the celebration, here are some pictures from the event.