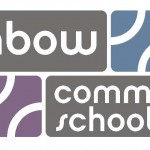 Kaleidoscope, May 2014: All the colorful things happening at Rainbow Community School, from the Executive Director
What a marvelous time to be alive.  Life is bursting forth!  It's an exciting time to be a part of the Rainbow Community, as one great thing after another comes alive.
 Is Your Child a Future Changemaker?
We received word that after months of interviews and research, that Rainbow is being inducted as an Ashoka Changemaker School.  This is a huge honor and responsibility.  We join 34 other Changemaker Schools nationally who represent the cutting edge future of education – schools with a mission to educate children to be "changemakers."  Changemakers are social entrepreneurs who improve lives and make a difference in the world with high ethical character, problem solving skills, creativity, and an innovative approach to solving social and environmental issues.  The changemaker committee was particularly intrigued with our mindfulness/spiritual approach to education and community.
 Did You Hear?
The Mountain Xpress ran an article last week about Rainbow becoming the first NC Green School of Excellence.  There are three tiers of achievement for NC Green Schools, and we are the only school to achieve the level of excellence.  We scored 99 out of 100 points!  On Monday, May 19 at 10am there will be ceremony at school with the Green Schools committee, and WLOS will be filming.
 Is it possible for the amazing faculty to get any better?
To prepare for next year's growing population and to replace the few faculty members who are leaving, we are busy hiring new talent.  Every class will have a full time assistant teacher, plus some help from support services.  I look forward to sharing the exciting biographies of these new hires this summer.  Just to tantalize you, here are a few snippets: a PE teacher with an MA in physical education who spent two years volunteering around the world; a naturalist who was Barbara Kingsolver's gardener, a British assistant teacher with an MA in education who was the outreach and development director of the Maui Earth Day Festival, a locally loved preschool teacher who is Montessori certified and a mindfulness expert, a Sacred Geometry expert and Science teacher who was hired to teach a Buckminster Fuller-inspired program he designed to all the students at the famous Sidwell Friends School, where the Obama children attend…and more.
 On the Run
This Saturday, May 17, Girls on the Run start their 5k at UNCA at 2pm.  I will be running it with them this year!  I am so proud of these girls.  A big thanks to coaches: Pamela Goodrum, Mehera Kleiner, Cheryl Dalton, and Sandra McCassim.
 More Recognition
It turns out I have been nominated as Small Business Leader of year through Asheville's Chamber of Commerce.  It's hard to imagine I will be chosen for the award, given all the dynamic business leaders in our community, but just being nominated is an honor, and it has helped me recognize even more how outstanding our local Chamber is.  I hope to partner with them to mentor our young Rainbow entrepreneurs next year (see next article).
 Young Entrepreneurs
This year 6th grade piloted a new youth business incubator program, where students developed socially beneficial business plans, including a marketing plan, profit and loss projections, and so on.  They presented their plans to a team of investors last month, who provided loans of up to $20 per business start-up.  This has been one of the most remarkable pilots ever – I am blown away by the initiative and vigor of these young entrepreneurs, many of whom are continuing their thriving new businesses long past the end of the unit, including feng shui house cleaning, natural egg production, tie-died hand sewn hats, natural candles, pet photographs, and more.
 Celebrating the New Expanded Campus and Planning for the Future of Facilities
The annual May Day celebration seemed especially colorful this year, and thank you to the board and everyone who helped coordinate the ceremony to unite the new property with the old property.  Wind, our faithful custodian, was the pied piper who played his flute and led us all from the May Day celebration over to the new property, where Stewart Stokes led a simple ceremony, ending with a dance of universal peace with the words "Spirit is around us like a Rainbow 'round the sun."
 It was good timing to christen the new property, as I am happy to announce that we just broke ground to begin construction to attain our certificate of occupancy (C.O.). Our fabulous architect (and parent), Jeff Dalton of Rowhouse Architects, has taken us through the complex process of analyzing the most cost-effective way to get that C.O.  Then, our incredible contractor (and parent), Chris Fox of Christopher Fox Builders, filed the permits and helped us find the best subs for some of the requirements such as new plumbing, fire alarm system installation, electrical exit lights, and panic hardware for the doors.
 Immediate Goal:  To obtain the C.O for the new Omega classroom (old fellowship hall) and the performance hall in the main building for use for upcoming school year.
Impact:  Financial security from expanded enrollment, great programming, awesome community-building performances
Timeline: Complete and moved in by August, 2014
Cost: $97,000. 
Funds available: $75,000
Funds needed: $22,000
 Details about Funds Available:
Of course, the $200,000 we raised in the fall was the first of the $600,000 capital campaign, and it was to purchase the property. So now we are using the next round of funding for this first phase of construction. The $75,000 already pledged for this phase is:
$50,000 from the McMichael Foundation

$25,000 in 2nd year pledges from the Rainbow Rising Capital Campaign. 
 Details about Funds Needed:
We submitted a grant to the Glass Foundation for $17,000.  If it is funded in full, we are only $5,000 short of the $97,000 needed to get our C.O!
 Plans to Attain Remaining Funds Needed:
After we hear from the Glass Foundation, we will be asking people who made first year pledges, if they are ready to make a Year 2 pledge, as well as requesting funds from other foundations.  If you know of a family foundation that is a fit, or you are ready to help make this project happen with your Year 2 pledge, contact Sandra McCassim at 828-258-9264, ext 120 or Sandra.mccassim@rainbowlearning.org or Micah Pulleyn at micah.pulleyn@rainbowlearning.org.
 The Future
Opening up the performance hall and new Omega space is just the beginning.  In the fall, we will be posting the architectural plans and gaining community ideas for the next phases of construction and landscaping, including opening up the basement of the main building, constructing a courtyard, expanding the middle school, and eventually building a new building with a large multi-use space and state-of-the-art music, art, and science/tech facilities.  Preliminary architectural plans are available in the office, and they are very inspiring!
At the community circle held May 5, the architectural plans were shared as well as fundraising plans to pay for construction costs.  Parents brought up the eventual need for a professional development director, and in general, a need to build the administration so that we can maintain or even improve the quality of leadership, communication and attention we provide for staff, students, families, and the wider community.  Yes!
 Projected Growth
Rainbow has a clear growth plan, designed to provide financial stability and build programming options through a larger population, while maintaining a strong, intimate community.
 Enrollment autumn of last school year P-8: 128
Current enrollment P-8: 168
Projected enrollment for 14-15 school year: 186
Approximate enrollment for 15-16 school year: 200. 
 Sheila Mraz has been doing inspirational work in admissions, so we have many new and interesting families enrolled for next year. The following year, after completing construction on the new property, we can reach our cap enrollment, which will be 42 preschoolers and 16-20 per grade K-6, with the potential to grow the middle school slightly more.  Thank you for all the references you have provided.  The vast majority of new families are coming through word of mouth.  Wonderful!
Sign of the Times
It's taking a long time to get our new sign!  Creative metal-work and sign-maker, David Tomlinson spent months working back and forth with us throughout the fall to design our new Rainbow Community School sign.  He went into production in December, but progress has been complicated and slow.  Unfortunately, David is now suffering from an injured back.  Hopefully, we will have the new sign before next school year.
The old sign has our old name on it, but our official name is still actually Rainbow Mountain Children's School, but we are filed with the State of North Carolina dba Rainbow Community School. (Therefore use of either name is legally okay.) Steve Schnedler, a skilled trademark attorney with Van Winkle Law firm has been generously working pro-bono to help us gain a national trademark for Rainbow Community School.  The process will take another year due to some complicating factors – hopefully the new Rainbow Community School sign will be up long before then!
 A Perfect Score
After a very rigorous process, the Rainbow preschool just earned their 5 star rating again – this time earning a perfect score.  Kudos to our incredible preschool teachers, who are so conscientious about maintaining the highest quality of programming possible while loving each individual child.
 Thursday is the most creative day of the year: Imagine!
Last year's Imagine was a look inward at who we are.  This year's Imagine has many of the same characters (including the puppets we all created with our artist in residence, Donovan Zimmerman, of Paperhand Puppets), but it is a journey outward. We are ready now to begin reaching out into the community and into the universe to expand our horizons and share vision.
 Composers: Richard Gannaway of AO Music, International World Music guru and composer of the Chinese Olympics Theme song.  Richard has been composing and recording music with the 2nd grade class.
Billy Goodrum is the other composer for this year's Imagine. He won't actually be at Imagine because he has to be at the Cannes Art Festival in France.  He created the score for two movies that will be there – one with Sophia Loren, and another that won the 48 Hour Film Festival nationally.
 This week Rainbow turns into a giant Imagine production studio.  The excitement builds as the children prepare to share their creative depths. It promises to be exquisite and meaningful.
Performances: Thursday 10:30 am and 2:30 at Calvary Baptist Church.  Plus, if you can make it, Omega will perform a play at 1pm.
 The Big Transition
There are twelve 8th graders who are fully prepared to fulfill their goals in high school.  K-8 graduation, June 3, will be on the in front of the Orr Mansion one last time.  We are outgrowing the long-standing tradition of holding the ceremony on the front lawn, so unless you get there early, it will be standing room only.  Next year, graduation will most likely be moved to the new performance hall, which will be the back-up rain-out location for this year.
Reflecting back to the beginning of this school year, we proclaimed that it was the beginning of a new era for Rainbow.  Indeed, it has been a banner year, and there is more to come.  As I watch the children on the playground and in their classrooms, I marvel at how much each of them has grown in every domain this year.  Each is a wonder to behold.  What will their future bring, and what will they bring to the future?  We hold this in our hearts, as we plunge toward summer, and many fruitful seasons ahead.