Montessori Comparison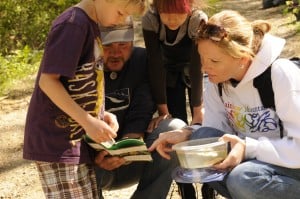 It isn't uncommon for people to assume that Rainbow Community School is a Montessori School.
After all, our preschool and kindergarten classrooms look quite similar to a Montessori classroom.
The Rainbow Learning model does have some important similar approaches and techniques, and
we have several teachers who are Montessori certified, but there are some differences as well.
Both approaches are grounded in close and insightful observations of children. Maria Montessori
was a pioneer in crafting a learning approach and environment that naturally suited children, or that
was "child-centered."
If one were to examine the Eight Principles of Montessori Education, one
would see nothing that isn't included in Rainbow's philosophy:
1. Movement enhances thinking and learning.
2. Learning is improved when students have choice and a sense of control.
3. Learning is improved when students are interested in what they are learning.
4. Extrinsic rewards are avoided, in favor of intrinsic motivation.
5. Learning with and from peers through collaboration.
6. Learning is more authentic when immersed in meaningful, concrete contexts.
7. A loving, authoritative teacher gives children freedom within clear boundaries and high expectations.
8. Order in the environment is beneficial to children.
These principles were radical when Maria Montessori developed them 100 years ago. She was
joined by Piaget, John Dewey, and a others who believed in a "constructivist" approach, whereby
children learn by doing, or by "constructing" their own learning.
The Rainbow Learning Model
 When the Rainbow Learning Model was developed in 1977, it had the advantage of being able to learn from the Montessori model, while
adding some principles to create a unique holistic approach to education.
The most notable additions in our stated core principles are the emphasis on the natural world, creativity, and an explicit emphasis on the spiritual development of children.
Another addition to the Montessori principles is the strong inclusion of parents and family in the educational framework as key part of the learning community.
Rainbow's Model and Montessori Differences
 One of the biggest differences between Montessori education and Rainbow is how each day is structured around the different types of activities. In a classic Montessori school, young children spend the much of their day doing independent work for stretches of time. In Rainbow, children have blocks of time for independent work, but they also have more group collaboration, group projects, and direct instruction.
In preschool the whole class gathers each day for a community circle, which we call "centering." There is a strong sense of the class being a community, and
children have more than a lot of opportunity to learn how to work together and to practice sophisticated social and emotional skills that are so important in today's world.
In the middle school grades, Rainbow has a philosophy that the techniques and curriculum need to constantly change and adapt to the current day. Maria Montessori never had the opportunity to develop an operating middle school in her lifetime, which is a shame, because her ideas were groundbreaking, and actually very different than her elementary school model. Were Maria Montessori to walk into the Rainbow Community's Omega Middle School today, she'd likely be very pleased with its evolution.
In summary, if you feel that a Montessori School may be a good fit for your child, it would make sense to tour Rainbow Community School, as the Rainbow model has many similar features, and several evolved features as well. If you are already at a Montessori School and wondering how the transition to Rainbow would be for your child, it is worth a conversation.