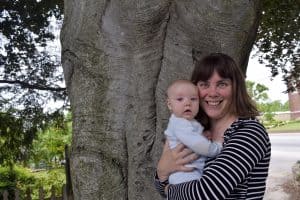 As a child, Jessy always envisioned herself as a teacher but also loved artistic expression. When she first went to college, she felt torn between education and art. Education eventually won out when a friend suggested that teaching at Rainbow would be a great fit and a way to pursue both loves. Jessy went on to earn the NC Early Childhood Credential and an Early Childhood Education Certificate. She taught preschool at Rainbow from 1997 to 2015 and was a top ten recipient of the Terri Lynne Lokoff National Child Care Teaching Award in 2012.
Jessy joined the office team in 2015 and enjoys continuing to support the school's mission as an Administrative Assistant and Media Specialist.
She is currently channeling her educational experiences as a consultant for Usborne Books & More by night. In her spare time, Jessy enjoys reading, dancing, crafting, and spending time outdoors with her husband and two young boys.
You can reach her at:  Jessy.Tickle@rainbowlearning.org