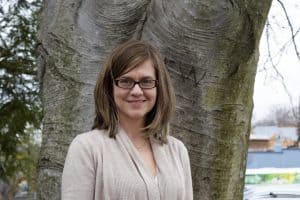 In 2000, Sandra left her work in the Florida public school system to bring her family to Asheville, NC for a more holistic educational model at Rainbow Community School. The way that students are viewed holistically through the seven domains spoke to her heart and was a perfect match for her teaching style and educational philosophy.  She also valued the strong community aspect of the school and how the school is not just an environment for students to learn but a community for families and staff to grow and learn together.
After years of teaching across the grade levels at Rainbow, Sandra went back to school to attain a Masters in School Administration and then moved into an administrative role as the Assistant Executive Director in 2012 and is currently the Director of Operations.  Although she loves overseeing the daily operations and functioning of the school with the opportunity to work with all grades and stakeholders, she also enjoys having opportunities in the year to participate in domain days, weekly song circles and teach Home Ec every other year! "Any opportunity to work with the students is a treat!"
When she is not at Rainbow… Sandra is either in the kitchen cooking and blogging, gardening, remodeling her house or spending time with her three children and husband.
You can reach her at sandra.mccassim@rainbowlearning.org