Waldorf Comparison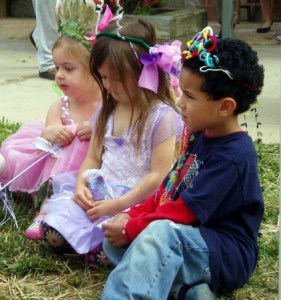 If you have taken a serious look at Rainbow Mountain Children's School and you are familiar with schools that are inspired by Waldorf Education, you may have noticed some similarities in feel.  In fact, many of our teachers, and even the Executive Director, have some Waldorf teacher training
Rainbow features that may look or feel similar to some schools inspired by Waldorf Education:
Similarities in beliefs about child development
Approaching the child holistically
A nurturing classroom environment
Emphasis on the teaching as a sacred calling
Appreciation of story and myth
Emphasis and love for the natural world
Use of natural materials and aesthetically beautiful classroom environments
Similar view of the media as needing to be tempered in the life of young people
Art immersion
It is important to note that some schools inspired by Waldorf Education are not members of the Association of Waldorf Schools of North America (AWSNA).  There are differences between schools inspired by Waldorf Education and AWSNA member schools.
The Contrasts:
The differences we see between Rainbow and other schools inspired by Waldorf Education are primarily a result of underlying philosophy.
The first Waldorf School was founded by Rudolf Steiner, a clairvoyant, philosopher and "spiritual scientist" (as he termed it) in World War I Germany.  Many schools inspired by Waldorf Education turn to Steiner's writings and transcribed lectures on education and anthroposophy (the term for his spiritual science) as the primary source.
While Rainbow loves to pull from the best practices many schools, it is not bound to the doctrine of one particular philosopher.  As a result of this fundamental difference in foundational approaches, here are a few of the different specific practices at Rainbow:
We believe that every child is different and we introduce many concepts before the curriculum that was indicated by Rudolf Steiner.  For example, we believe many kindergartners are ready to learn to read, some are not.  Both are accommodated at Rainbow.
We hire teachers who are trained in both conventional education (usually with an MA in education) and trained in alternative education.
We have students begin using technology in 4th grade.
We believe that different teachers bring different strengths, passions, and relationships for students and therefore do not loop the same teacher with a group of students from grades 1-8, as indicated by Steiner (we occasionally have kids loop with a teacher for two years).
We allow students to write their own fiction stories and students their own artwork out of their imagination at young ages.
A Summary

If you love some of the practices of schools inspired by Waldorf Education but you want that balanced with an academic program that progresses a little faster in the lower grades, then Rainbow may be a great fit for your family.