Before and After School Programs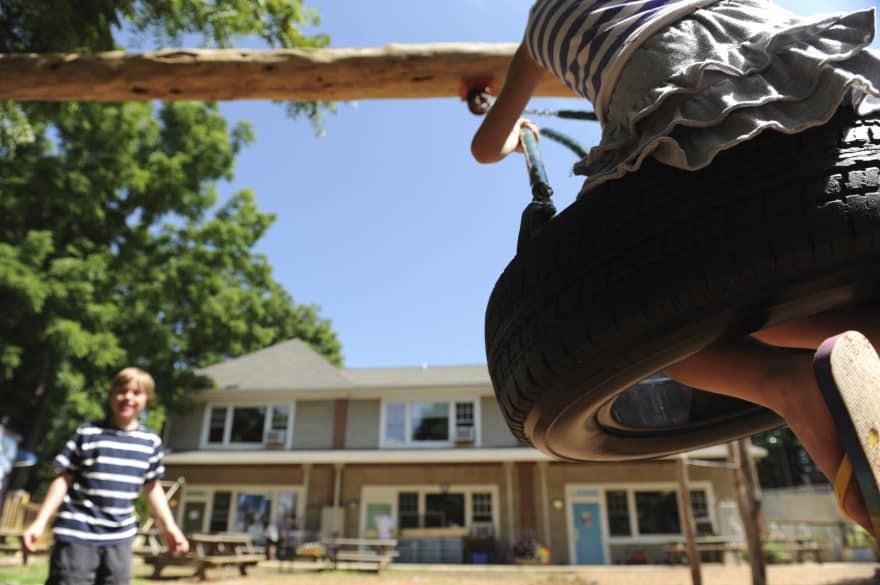 For families needing care for their children outside normal school hours, RCS offers before-school supervision and an after-school program.
Before and After School Program
The after school program is designed to be primarily open-ended "back-yard" style play where kids exercise on the playground equipment, start "pick-up" games, use their imagination, and so forth.
Additionally, there are directed activities, games, special-interest clubs and study time.
This program is available on school days from 7:45 a.m. to 6:00 p.m.
Families may participate on an hourly basis or sign up for a flat monthly rate. The after school program offers a variety of activities, classes, and clubs that change over time.
After school activities are in the arts (such as drama, crafts, etc), outdoors and kinesthetics (such as yoga, natural awareness, gardening, soccer shots), and intellectual pursuits (robotics, Odyssey of the Mind, electronics, chess).
---
 Winter 2016 After School Clubs
Click here to view and download the full color brochure with photos.
Wandering Swordsman – Boffer Games
Grades: 1st-8th
Fee: $96
Dates: Mondays (8 sessions) Jan. 11 & 25, Feb. 1, 8, 22 & 29, Mar. 7 & 14
Time: 4:00-5:00
Taught by Phil Ferguson www.wanderingswordsman.com
Join Asheville's growing swordplay community and play fun new games created by students! Learn swordplay skills, honor, discipline, and teamwork! Each quarter we will specialize in teaching the tactics for a different gear set and this quarter we will focus on pole arms.
Girls on the Run (GOTR)
Grades: 3rd-5th
Fee: Sliding scale $35 to $175
Dates: Mondays & Thursdays, Feb. 29th to Mar. 21st (Final 5K celebration)
Time: 4:00-5:15/5:30
Coached by Katie Waldowski & Lucy MacGregor
The Girls on the Run program combines training for a 5K (3.1 miles) running event with lessons that inspire girl to become independent thinkers, enhance their problem-solving skills, and make healthy decisions. We are dedicated to creating a world where every girl knows and activates her limitless potential and is free to boldly pursue her dreams.
Circus Ninja Training
Grades: K-8th
Fee: $96
Dates: Tuesdays (8 sessions) Jan. 5, 12, 19 & 26, Feb. 2, 9 & 23, Mar. 1 (make-up date Mar. 8th)
Time: 3:30-4:30
Taught by CJ O'Reilly & Cassidy Walpole
What do bears ninjas and circus artist have in common? They're both agile, adept, and just plain awesome! Learn to be more agile, adept, move like a cat, and do amazing tricks in Circus Ninja Training. Training will encompass martial arts inspired warm-ups, inversions, partner acrobatics, rolling and tumbling, slack-lining, human pyramids, flow arts, and hooping.
Yearbook Club
Grades: OMEGA
Fee: Fundraiser/free
Dates: Tuesdays & Thursdays all year
Time: Tuesdays 3:30-4:40, Thursdays 7:50-8:30
Led by Susan Waddell
Omega creates a yearbook each year as part of the fundraising efforts for their school trip. The yearbook is mostly completed during the school day, but often takes more time. Students use school cameras to capture school-wide events, clubs, a picture of every student, classes, staff members and memorable spaces on the property. Pictures are uploaded into Picasa and eventually into collages as pages are created! This year, Omega students who volunteer to help create the yearbook will be asked to commit to either staying after school on Tuesdays (3:30-4:40) OR coming early on THURSDAYS (7:50-8:30). We will begin September 22nd and the work will continue throughout the school year.
Cooking Club
Grades: K-8th
Fee: $48 plus a $48 materials fee
Dates: Wednesdays (8 sessions) Jan. 6, 13, 20 & 27, Feb. 3, 10, 17 & 24 (make-up date March 2nd)
Time: 1:30 – 2:30 (grades K-3rd) AND 3:00-4:30 (grades 4th-8th)
Taught by a variety of cooks, chefs, groups, and restaurants, assisted by the after school staff.
We will measure, chop, dice, sauté, simmer, bland, stir, skewer, melt, peel, and most importantly, EAT! Knife safety, using blenders and griddles, and learning measurement skills are part of the club. Each week we will have a different adult who loves to cook lead the kids in preparing a dish. This session we will create our own kid friendly cookbook with our recipes.
TAASC – The America Adventure Service Corp
Grades: 3rd-8th
Fee: See below. Separate after school fees DO apply.
Membership Fees: We offer 3 options for membership. Students can join at any time, tuition is pro-rated.

TAASC Ultra-light program: $250/quarter, 12 weekly skills meetings, trips can be added for $125/trip
TAASC Light program: $375/quarter, 12 weekly skills meetings and 1 weekend adventure trip
Full TAASC program: $625/quarter, 12 weekly skills meetings and 3 weekend adventure trips

Dates: Begins Jan. 6
Time: 1:30-3:00
Taught by Greg Gillett www.ashevilletaasc.com
Interested in fun, adventure, developing self-reliance, all in a safe and super fun group setting? You'll learn outdoor skills such as: wilderness first aid, outdoor cooking, climbing skills, navigation, knots and other skills to prepare for our adventure trips.
Dungeons & Dragons – Legend of the Edge
Grades: 5th-8th
Fee: $48 plus $15 materials fee
Dates: Thursdays (8 sessions) Jan. 7, 14, 21 & 28, Feb. 4, 11 & 18, Mar. 3 (Make-up date in March TBA)
Time: 3:45-4:45
Led by students, Edezra Cunningham with Willow Eshan, and 6th grade assistant teacher, Justin Pilla
Dungeons & Dragons is filled with adventure, excitement, heroics, glory and more. It is one of the biggest and well-known role playing game (RPG) out there. An RPG offers a chance to take on the role of a character in a wonderful and magical world. You decide upon a type of character to play (sneaky, magical, strong, etc.) and the role he/she will play in the group. For example, a cleric, which is a type of wizard, should heal the rest of the group if they get hurt and the strong character could fend off enemies from the rest of the group if they get in a dangerous situation. The group will then go on quests of varying difficulty and motivation, complete tasks on the way, and collect great rewards for heroic deeds!
Drama Club Production – Treasure Island!
Grades: K-8th
Fee: $96
Dates: Mostly Fridays, with other days of the week closer to the show (12 sessions) Jan. 8, 15, 22 & 29, Feb. 5, 12 & 19, Mar. 4, 9, 10, 16 & 17
Shows: March 18th and possibly March 19th
Time: 3:30-4:30/5:00
Directed by Katie Turner with help from Angie Moor, Sue Ford, and Denisa Rullmoss
Avast and ahoy mateys! Are ye ready to sail the seas with Captian Smollett, Jim Hawkings and Long John Silver? Are ye ready to sing swashbuckling songs and hunt for tea sure with your fellow shipmates? Join the crew as we put on a show of the classic story TREASURE ISLAND! We need a hearty crew, young or old, to tell his classic pirate tale. Take sail and learn all about what it takes to put on a big show!
Rainbow Volleyball
Grades: 5th-8th
Fee: $96
Dates: Jan. 13th to Mar. 23rd
Days: Mondays (alternating), Tuesdays and Wednesdays
Practices: Tuesdays 4:00-5:00 and Wednesdays 1:45-2:45. Practices will be held at the Montford Rec. Center
Games: Every other Monday at Evergreen 4:00
Coached by Anne Raustal & Jen Lauzon
Volleyball is THE fantastic new sport at Rainbow. It was so awesome last session that the team decided to keep on volleying! Learn to bump, set, and spike as we practice with our friends at Rainbow and then travel to Evergreen to play games. New players are welcome.
Rainbow Warriors Basketball
Grades: K-5th
Fee: $96
Dates: Jan. 7th through Mar. 1st
Practices: Thursdays 3:30-4:30
Games: Tuesdays 4:15
Coached by Mark Strazzer
Come play team basketball with the Rainbow Warriors! A co-ed sport that will play against other Hospitality League teams. Hospitality League believes that fitness is important and strives for a positive atmosphere of physical activity. We want students to learn athletic skills, build leadership and team-building skills, gain confidence, participate in friendly competition and most importantly to have fun! Here is the Hospitality League web site with rules of play and the game schedule: http://www.hospitalityleague.weebly.com/
---
Meet our After School Team!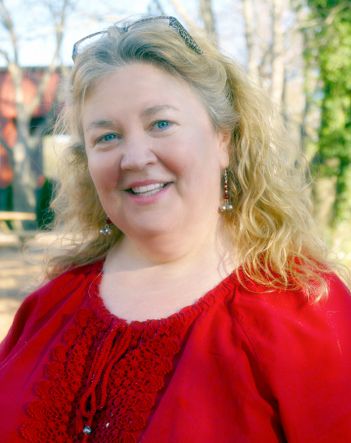 Denisa
Denisa is our After School Queen. She coordinates all the after school clubs, such as archery, bike riding, mask-making and much more. She oversees the whole program and understands the needs of children so well that Rainbow students adore her!
She always has an idea up her sleeve. You'll see her on campus walking with gallons of bubbles, hula hoops, feathers and boas, or little solar-powered bugs, because you never know what she's going to have up her sleeve to wow the kids.
She says that when she was eight years old, she ran into a witch that told her that she'd always be a kid at heart, and that she'd always stay eight years old on the inside, even though she'd age on the outside.
She claims that the best inventions ever are hot glue guns and pool noodles.
Her claim to fame? She once sang with The Carpenters.
 Makasi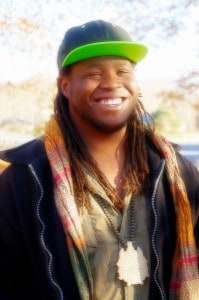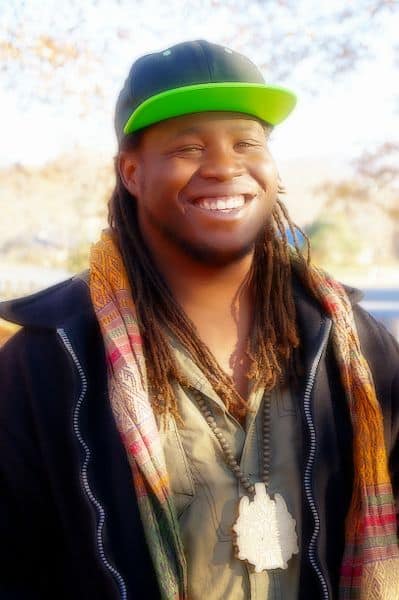 Makasi: a language buff. He speaks 4 languages: French, French-Creole, English and Swahili.
He uses his amazing language skills to help facilitate the After School program with Denisa and Mo.
He also has a mind for chess. He teaches people how to master this game of strategy in a fun after school club.
His proudest moment was getting accepted into his first choice college: Pratt Institute.
Makasi is a world traveler. He was born in Haiti and has family in the Dominican Republic.
His favorite place in the world? Senegal. He lived there once, right by the ocean, speaking French and learning about art and culture.
He has three brothers and three sisters, and his dad worked for the UN, so there are seven siblings in his family – and many stories to tell!
---
 Hospitality League
Additionally, team sports are offered for 5th – 8th graders, with flag football in the fall, basketball in the winter, and soccer in the spring.
We are in the Hospitality League with eight other schools that compete with wholesome, good-sportsmanship.
Girls on the Run is typically offered for girls grades 3rd – 8th in the spring.
We also partner with the Asheville Ultimate Frisbee Club to provide frisbee classes during the spring. The classes are usually on Wednesday, but check the Asheville Ultimate Frisbee Club calendar for more information.