Rainbow Community School's holistic, experiential and project-based approach to education is vitally important during the middle school years when children experience tremendous cognitive, emotional and biological changes.  RCS challenges students to know who they are as academic learners, have a strong sense of personal self worth and find their voice to express themselves authentically.    The low teacher-to-student ratio, rigorous individualized curriculum and child-centered approach makes the Omega program stand out above the rest. A letter from the ED regarding your future middle school student. 
Integrated Thematic Curriculum
The Rainbow Learning integrated curriculum means that the subjects are all connected with one specific theme.  For example, what is being taught in science is incorporated into the social studies topic while being written about in language arts and read through literature.  Lastly, all of this is tied into current events.  Our goal is for the students to see that each and every lesson is directly connected to another lesson.  We aim for these young adults to merge their understanding of the world with an interconnectedness that is relevant to their everyday life.   Each unit begins with an inspiring hook and a discussion that directly ties to the previous unit; each unit ends with a formal assessment that prompts thought as to what might come next.  Life is circular; we believe learning and understanding should also be circular. Omega 6th grade Curriculum Map (.pdf) Omega 6th grade thematic unit (.pdf) Omega 6th grade weekly schedule (.pdf) Omega 7/8th Integrated Master Curriculum Map (.pdf) Omega 7/8th Thematic Unit (.pdf) Omega 7/8th Schedule  Omega 7/8th Sample Newsletter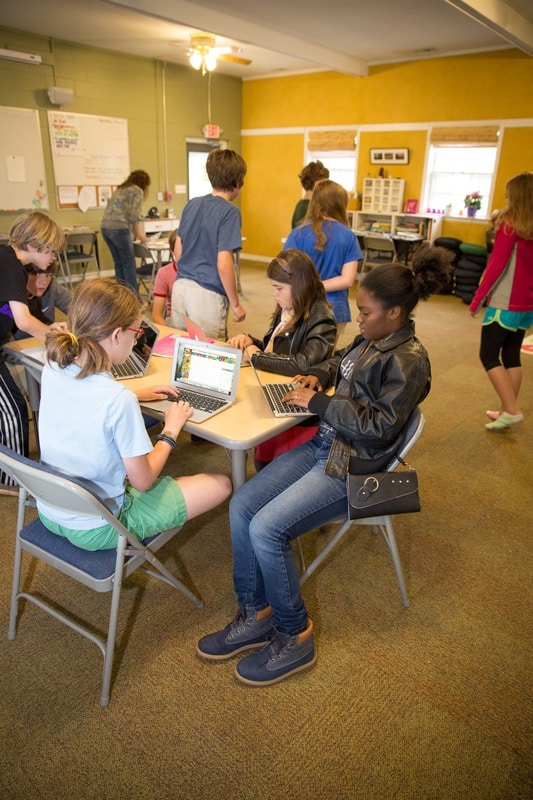 Assessments
Students are assessed throughout the year in their essays, portfolios, presentations, debates, projects, conduct and at the beginning of the year with formal standardized testing.  Students are given letter grades for both effort and performance.  Parents receive lengthy narrative reports three times a year that highlight strengths and weaknesses in all subjects and all domains.  There are four scheduled conferences throughout the year.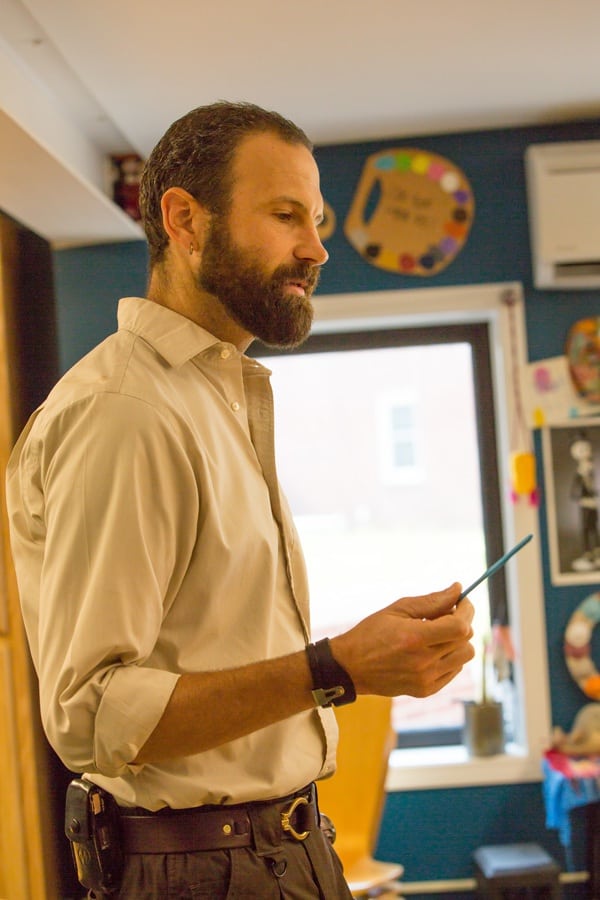 Math classes
6th grade Pre-Algebra, 7th grade Transitions, Math 1, Math 2, Polymath 6th grade math, teacher- Jenny Armocida:  The 6th grade Singapore Math class is taught in the CRA method – concrete, representational, abstract. 7th grade Pre Algebra, teacher- Jason Cannoncro:  All of the Math 1 concepts are covered, but in less depth.  Students start with the review of basic math skill such as working with integers and move into solving equations and exploring geometrical figures.  There is a lot of work with word problems which deepen the students' understanding of concepts and bridge to real life situations.   This is a prerequisite to Math 1. Math 1, teacher- Susan Waddell:  Susan has a love for math that could possibly be called an obsession.  She loves perplexing problems, dreams about ways to teach challenging concepts that will both help to simplify and arouse a zest for math in her students, and is usually working on a mathematical score that her students will not forget.  Math 1 is an integrated course that reviews four major concepts:  Algebra & Functions, Geometry & Trigonometry, Statistics & Probability and Discrete Mathematical Modeling.   The RCS Math 1 is student centered and is aligned with the public high school system. Polymath, teacher- Mark Hanf:  Polymath literally means one who is a master of many disciplines or fields of study.  The Polymath class will nurture the logical-mathematical intelligence, in addition to the visual-spatial and kinesthetic learning styles.  Polymath will integrate 3-D model construction, compass and architectural drafting, animated multimedia presentations, and art-based assignments.   In this multi-faceted course, students will explore the narrative within the history of mathematics (Leonardo DaVinci and Buckminster Fuller) and discover the profound connections that math history has to art history.  The focus will primarily be Geometry, but not writing proofs and theorems.  Rather, Polymath will look deep within nature to see the interconnection of life from the molecular (structure of crystals, chemical compounds, atoms) to the human (anatomy, architecture, art, music) and lastly to the global and Universal scales (cartography, astronomy).  For more about Polymath visit: geometryofnature.com Math 2, teacher- Susan Waddell:  This high school level class is offered to students who have mastered previous levels and show initiative to challenge their learning.  Students will receive high school credit for this course.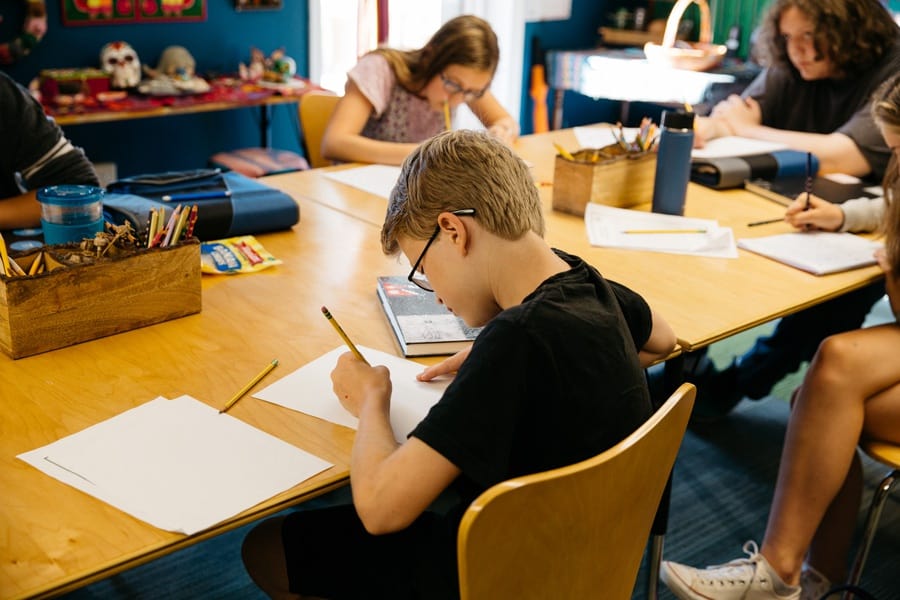 6th Grade Entrepreneur Business Project
In partnership with the Asheville Chamber of Commerce and local businesses, the 6th grade investigates the world of commerce by creating, implementing and sharing their researched business model.  Students are asked to interview local businesses, engineer a viable business model, create a cost analysis and present their business to the community in a PowerPoint presentation and with business cards and fliers.  All business plans will have a socially beneficial factor and students will have an opportunity to present their plan on our Haywood Road kiosk.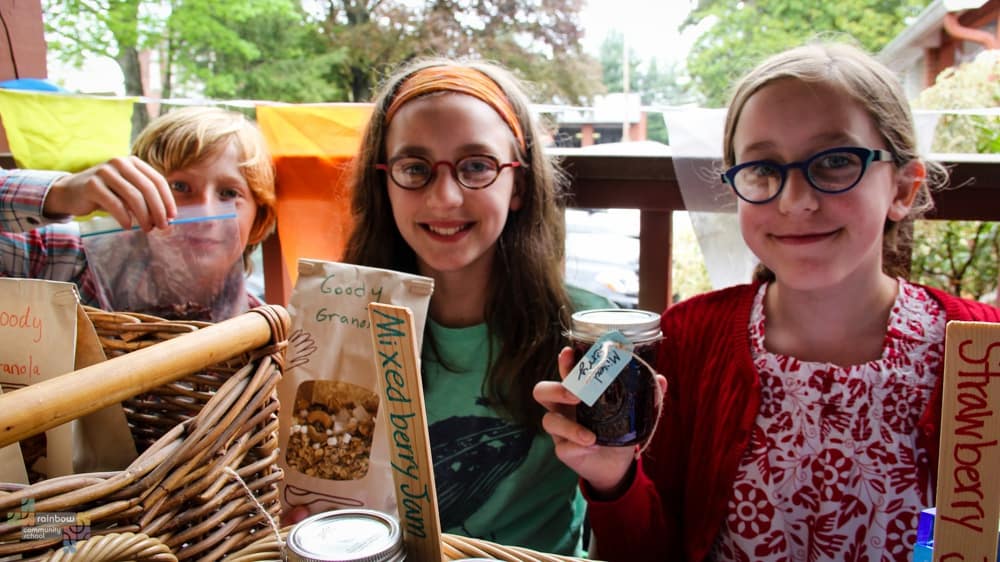 Science Fair Project
Because everything is well thought out and planned, the February science fair is first introduced in August.  This allows the teachers to meet the desires of our Omega scientists.  We begin 7th and 8th grade years rediscovering the scientific method and begin working on our long-term science fair projects.  As a result, students have the opportunity to choose a project that takes several months of observation and testing the results in order to produce a well-crafted product and conclusion.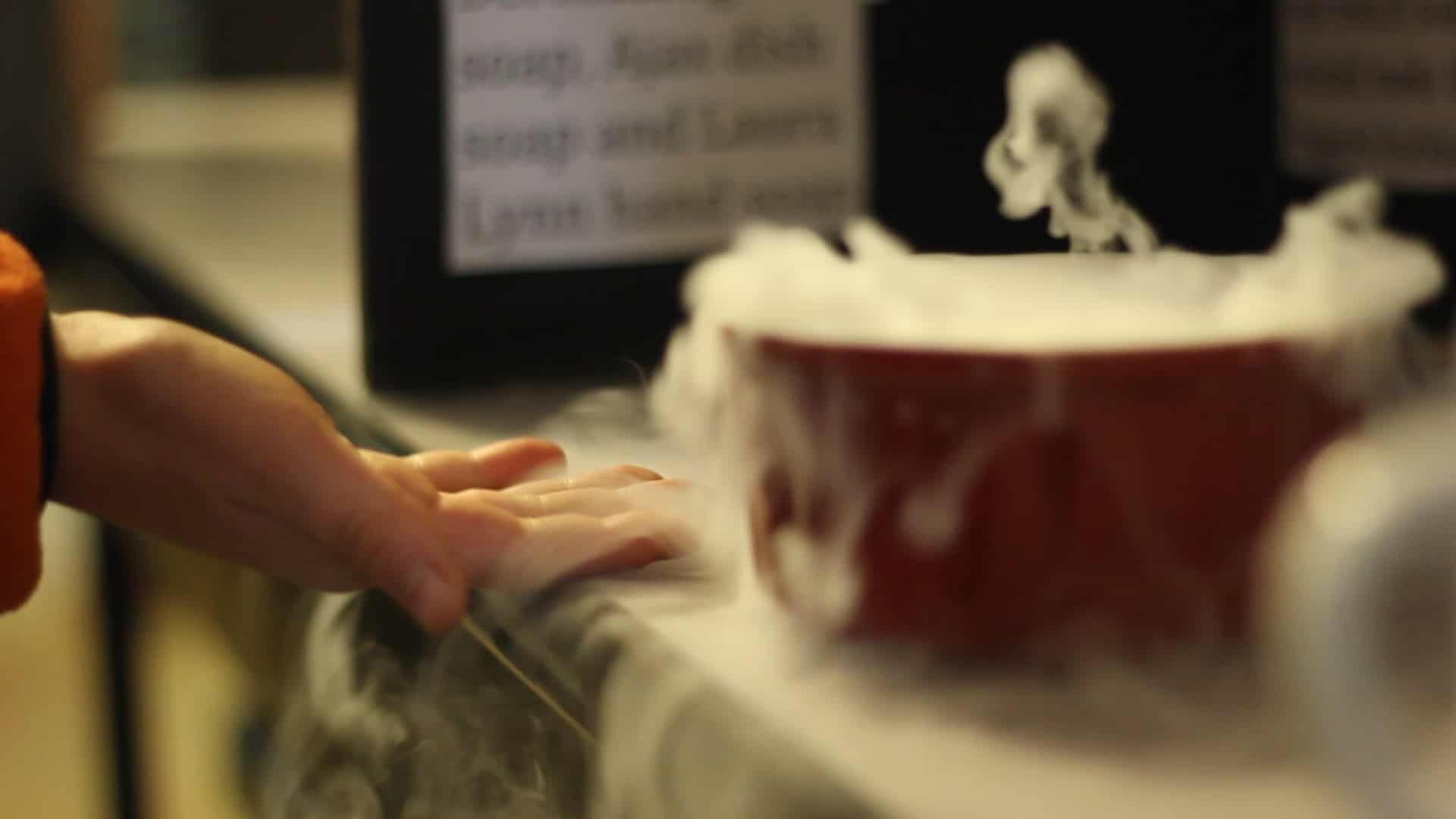 Sports
Sports are taught formally in the PE classes and are available for competition throughout the year with the Hospitality League.  Students can participate in flag football and ultimate frisbee (fall), basketball (winter) and soccer (spring) against schools of similar size.  This co-ed league focuses on comradery, techniques and teamwork.  Teams end the game with a group discussion of the game to review plays and encourage sportsmanship.  A full-day ski trip is also scheduled once a year.    Learn more about RCS Athletics.
Music
The middle school students learn to play a variety of instruments:  various percussion instruments (the marimba is one of them), the ukulele, alto recorders and the drums. Through each of these instruments, they learn essential elements:  tempo, meter, rhythm, melody, style, harmony, and key, as well as learning to read music.   Students are then able to utilize these skills and apply to any instrument.  Learn more about our music teacher Sue Ford.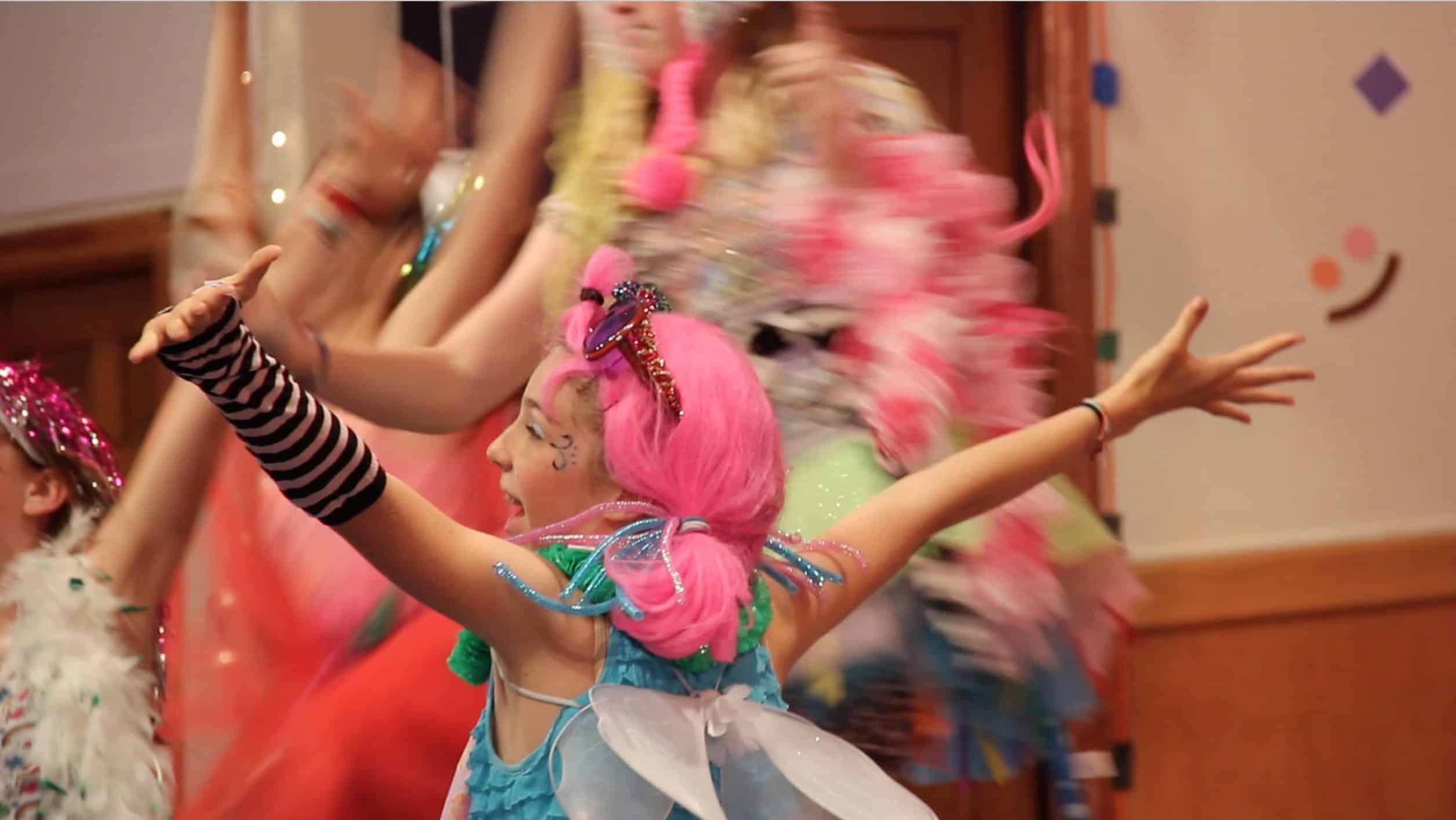 Gender Mysteries Council
There is a trend for schools to be completely single gender during the middle school years due to many reasons, one being the fears of ever-changing hormones and emotions.  However, here at RCS, we provide a safe environment for maturing adolescents to engage in heartfelt dialogue free from censure, to share frustrations and confusions and to explore solutions in an inclusive community.  Our program aims to create positive opportunities for life-long friendships and understanding between genders. We do separate the boys and girls every other week to explore gender issues in a safe, sacred space.  A variety of activities are used to create strong femininity and masculinity including martial arts, yoga, ropes courses, climbing, group challenges, storytelling, and ceremonies.  The 7th and 8th grade years begin with an outdoor overnight excursion to enhance bonds of the community.  The single gender class topics can include computer and texting safety, navigating friendships, parental relationships, confidence in self and body image, as well as honoring elders.  Students are able to ask big questions in a loving atmosphere. The closing ceremony for the 8th graders is like no other.  The self-directed graduation speeches almost always highlight monumental events in the school life of the child, the special bond he/she has with the teachers and the overwhelming love for the school.  The students experience a memorable lighting ceremony.  With the teachers and parents at their side, 8th graders send off paper lanterns into the night sky as they visualize their wishes for their future.  Parents and teachers alike write letters to each of the 8th graders with personalized wishes for each.  This is truly an experience to cherish for a lifetime.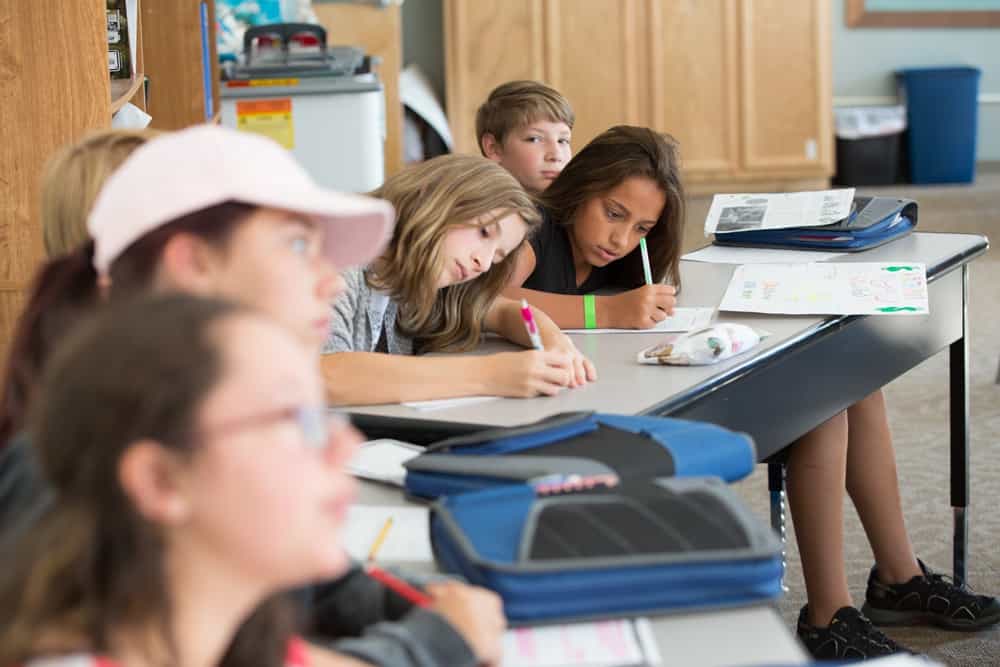 Spanish
4 levels of Spanish are offered!
Class trips
D.C., Charleston with overnight in the USS Yorktown battleship, local theatrical and music performances, Spanish led field trip, Dharma Center, Nature Awareness hikes, overnight camping, Art museum, Renaissance Fair
Honor Code
Parents are a key component in the success of the honor code and are asked to sign the class code in addition to the students. Omega Honor Code (.pdf)
New Middle School Campus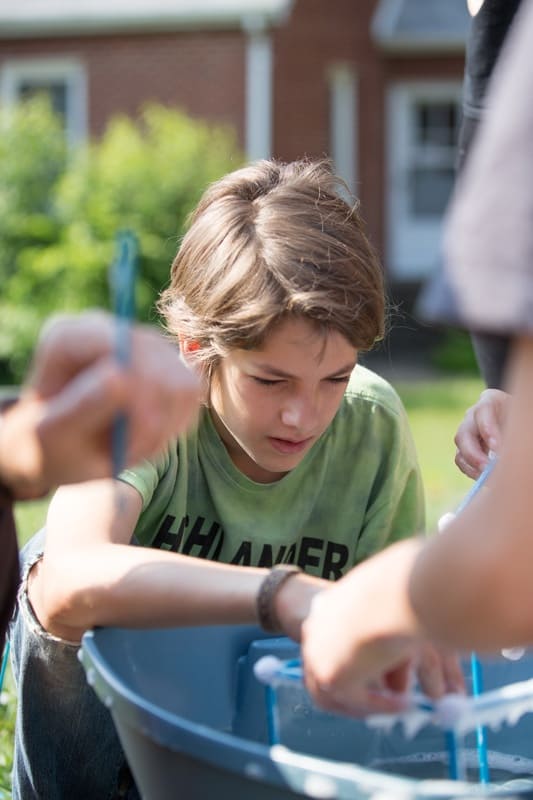 2016-2017 Electives
Students get to choose three electives each trimester.
Home Economics Writing Basics Creative Writing Workshop Literary Journal Facilities Choral Explorations Marimba Percussion Ensemble Band & Music Creation Drama
Theater of the Oppressed
Modern Dance
Vintage Jazz & Swing
Nature Awareness
Cooking
Social Change
Study Hall
Computer Coding
Primitive Skills
Drawing and Painting Fundamentals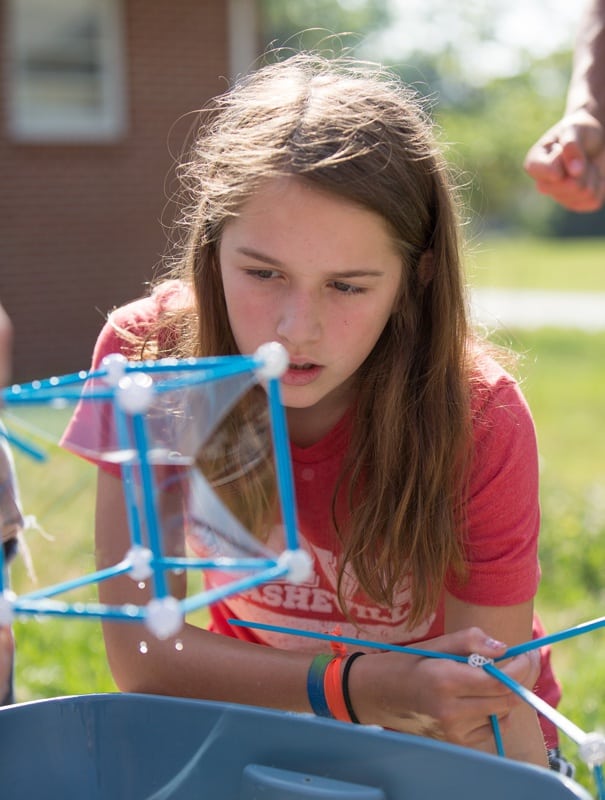 Child-Centered Approach
Developmentally, the middle school years are vastly different.  The 6th grader is a completely different student compared to the 8th grader.  Even though a 6th grader believes she is ready to take on the world, she needs a further nurturing environment in the 6th grade year to gradually grasp the emotional, biological and physical changes occurring.  This is why our 6th graders are in a class of their own.  In contrast, our 7th and 8th grades are combined to accommodate the rapid cognitive growth and the sophistication of the developing high school student.   This unique Rainbow Learning program also provides continuity with the same dynamic teachers to further build relationships and academic growth.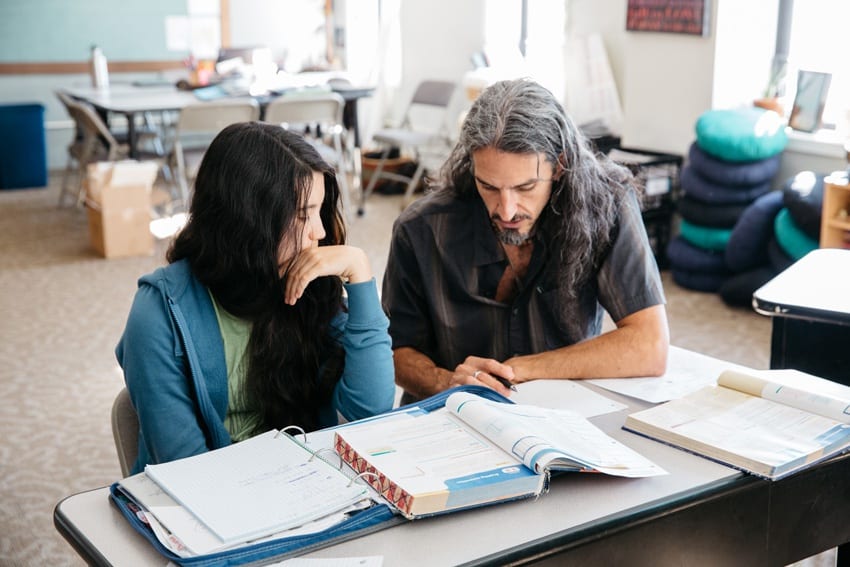 Writing
In Omega there is quite a focus on the craft of writing.  Lessons on basic structure and parts of speech are weaved seamlessly into the integrated lessons and practiced on a regular basis.   Guided assignments review information covered in class and also allow the student time to apply their understanding of grammar and structure.  Students write essays, reflections, create poetry and explore fiction all while reviewing and assessing their understanding of science, history and literature.  Technical pieces include bibliographies and in-text citations.  Additionally, students publish work through the creation of the annual school-wide yearbook and submit articles for the Omega Newsletter.  The middle school students practice basic writing skills daily, edit and revise weekly and stretch their imagination often.  Students have an opportunity to develop interviewing skills, explore creative and narrative writing strategies and learn how to use literary elements discovered in literature and poetry.   In the end, with the combination of fantastic teachers and a well-designed program, students discover that they are, in fact, really good writers!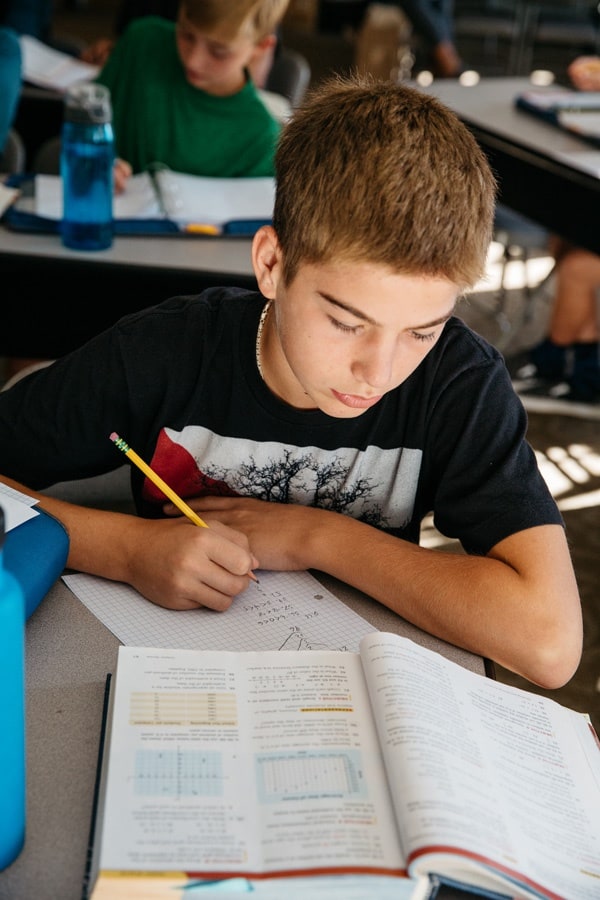 PIP (Personal Interest Project)
Students research and create mini-documentaries on a passionate topic.  A PIP includes three main components: a written paper of 5-7 pages in length, a PowerPoint presentation, and a creative portion. An audience assessment accompanies the project.  Written papers include bibliographies and citations. Students are given a rubric to guide them as they work.  Within this rubric are assigned due dates to create multiple edited drafts of their projects before completing their final drafts. The teachers have many one-to-one check-ins to be sure the students are on the right track.   The PIP projects are a wonderfully intrinsic way to teach students about the process of researching, writing, editing, presenting to peers, and using their creative abilities to finish a milestone project. https://www.youtube.com/watch?v=_kvZUAsKPiA&feature=youtu.be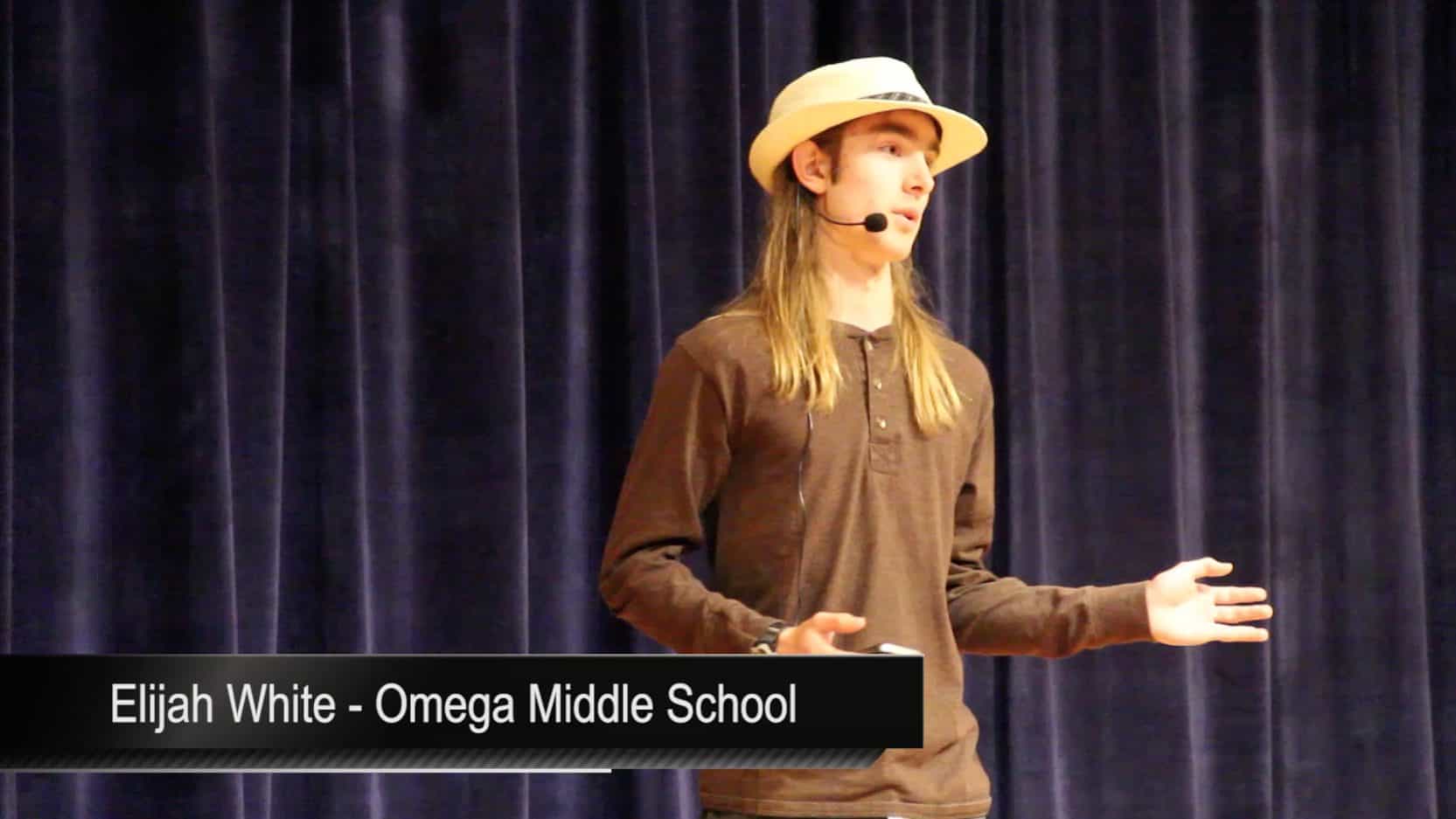 Spirituality
Spirituality is the thread that ties us all together.  It is the practice of mindfulness experienced in deep breaths, kind words and thoughtful actions.  It is the peace that we experience throughout the day starting with centering.   Centering is led by the teachers three times a week in the 7th and 8th grades and expected to be led by students the rest of the week.  The middle school students are the role models of mindfulness throughout our campus and will practice centering activities with younger grades.  Typically, students write the chosen quote for the day in their journals and then verbalize how this quote relates to their life.  This is a very powerful experience to hear peers open up and expand upon a theme from their life's experiences.  Thought-provoking topics are cultivated in this setting and great wisdom is shared openly.  Maturity is expected and is a part of the honor code (see below). Through lifting up those that surround us, we are in turn lifted.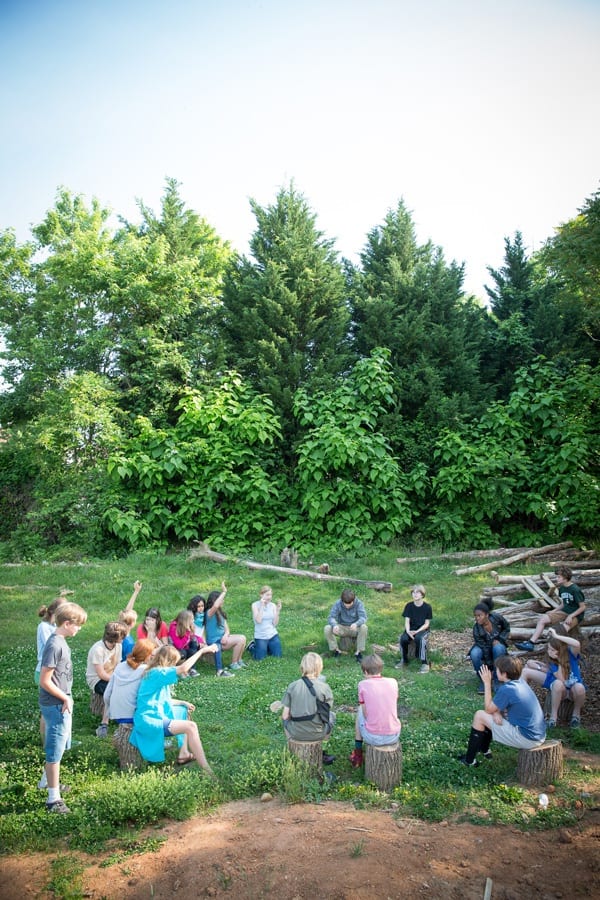 Arts
The creative arts are an integral part of our program.  In the majority of the experiential thematic units, there is a form of art expression that is required.  In addition, students go to a classic art class weekly to study sculpture, pottery, outdoor murals, 3D modeling, painting, modern art, book making and set design.  Students also learn technique and the discipline required to create amazing forms of work.   At the end of the year, students prepare for the Imagine performance.  Through working alongside a talented artist in residence, students get the first-hand experience of the artists' profession and craft.  A large theatrical performance is the pinnacle of the year.
Technology
Mac laptops are available for every student to utilize daily.  In addition, we use Excel graphs, Web 2.0 tools including Prezi presentations, 3D Printer, Skype, Power Point, and Picasa.   There is usually one aspect of technology that is integrated into the thematic units.