Summer Programming 2018
Find out about our 2018 summer camps!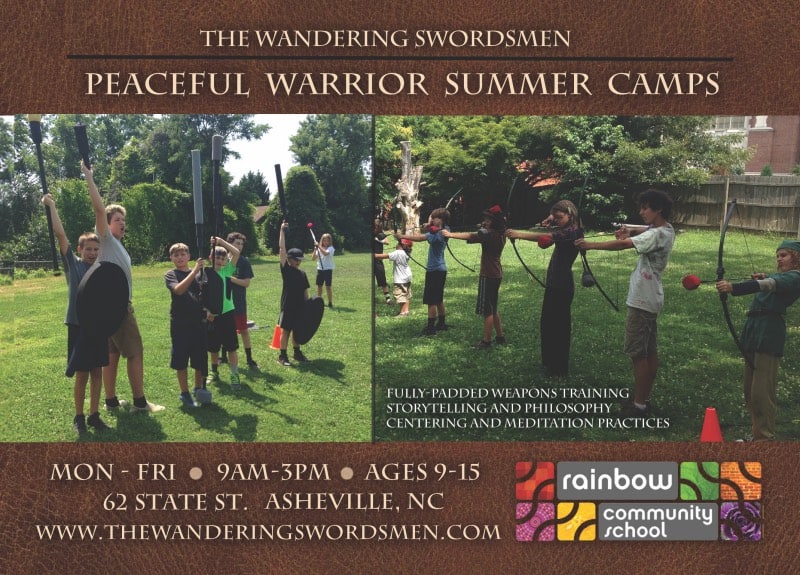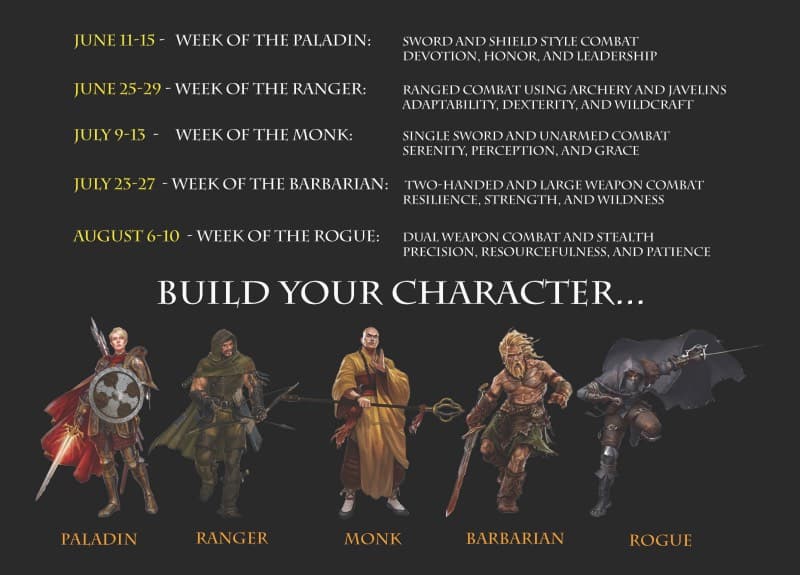 PEACEFUL WARRIOR 
SUMMER
CAMPS
The Wandering Swordsmen
2018 Peaceful Warrior Summer Camp Signup is now open!
Please email thewanderingswordsmenllc@gmail.com to register.
The cost is $333 for the first registration, or $633 for two.
Camp will run from 9am-3pm each day, and each camper must bring their own lunch and a snack.
Camp will be located at Rainbow Community School and Omega Middle School, which share a campus located at 574 Haywood Road and 62 State Street in West Asheville. Drop off and pick up will be from the field next to Omega, or from the Omega auditorium in the case of inclement weather.  
The Peaceful Warrior Camp is dedicated to teaching children ages 9-15 how to be a modern day warrior that deeply values peace, compassion, and respect for themselves and their opponents. Each week will include large amounts of boffer game play using all different kinds of gear, but we will focus on studying the style of one warrior archetype and honing the abilities that they utilize in the game and the rest of life!
The mornings will be more physically active, focusing on game play and ability training. The afternoons will be less physically demanding during the heat of the day, with time and activities focused on learning how to become our own unique versions of the warrior archetype for the week.
5 Weeks of Peaceful Warrior Camps for 2018!
Week of the Paladin: June 11-15. Specializing in sword and shield style combat, the Paladin is a warrior that embodies Devotion, Honor, and Leadership.
Week of the Ranger: June 25-29. Specializing in ranged combat using archery and javelins, the Ranger is a warrior that embodies Adaptability, Dexterity, and Wildcraft.
Week of the Monk: July 9-13. Specializing in staff and unarmed combat, the Monk is a warrior that embodies Serenity, Perception, and Grace.
Week of the Barbarian: July 23-27.
Specializing in two-handed and large weapon combat, the Barbarian is a warrior that embodies Resilience, Strength, and Wildness.
Week of the Rogue: August 6-10. Specializing in dual weapon combat and stealth, the Rogue is a warrior that embodies Precision, Resourcefulness, and Patience.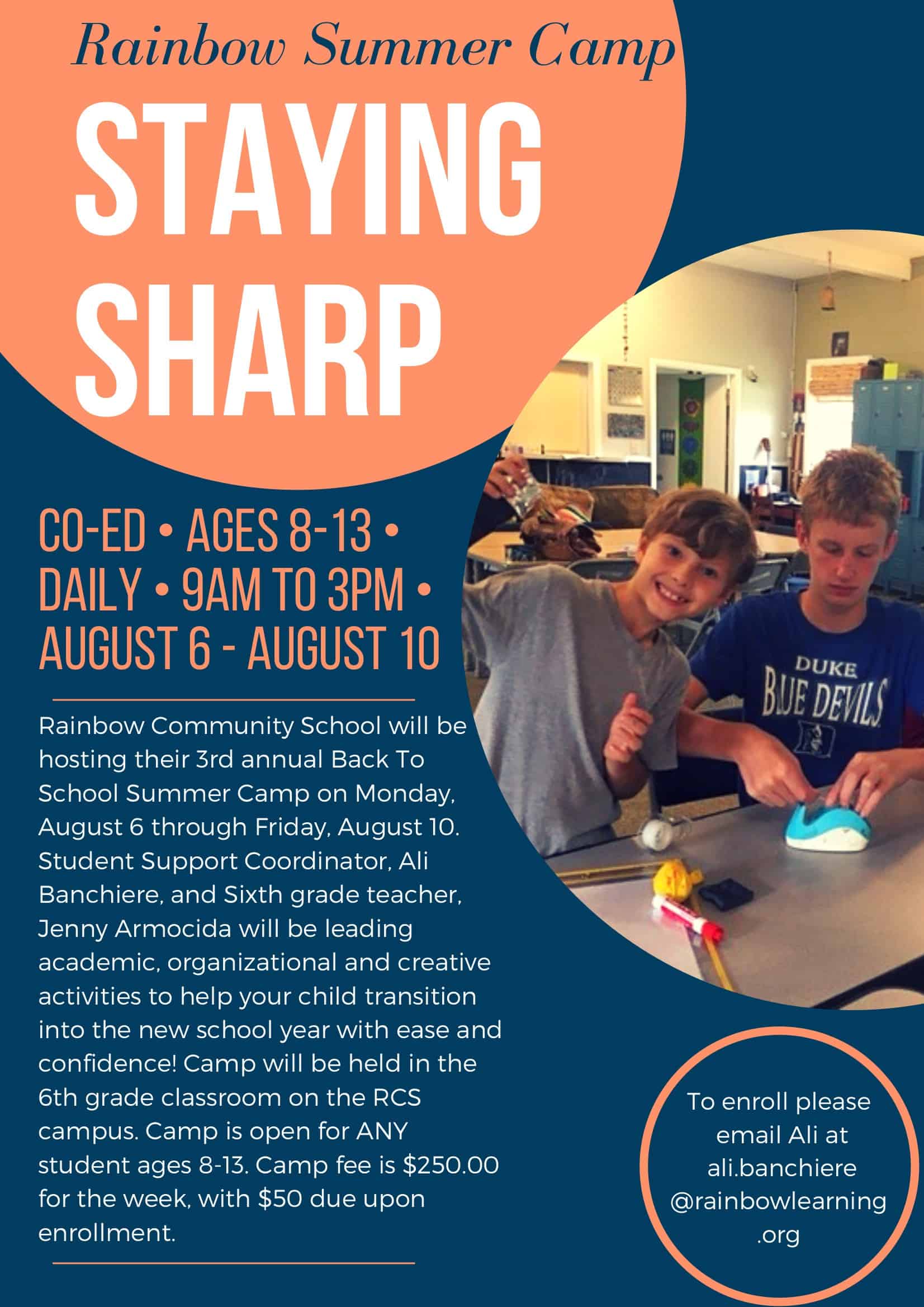 Staying Sharp Summer Camp
Ali Banchiere & Jenny Armocida
August 6-10, 2018 – For all students ages 8-13
($250) 9AM-3PM
Student Support Coordinator, Ali Banchiere, and Sixth Grade Teacher, Jenny Armocida, will be leading academic, organizational and creative activities to help your child transition into the new school year with ease and confidence. Camp will be held in 6th grade class and on the RCS campus.
For all students ages 8-13. Activities include:

Reading. writing. grammar and spelling
Math review based on Singapore Math curriculum
Note-taking strategies
Effective organizational habits and routines
Typing and word processing
centering and mindful movement
engineering challenges and teambuilding games
arts and crafts
outdoor games and water play
Camp fee is $250 for the week, with $50 due upon enrollment.
To enroll, please email Ali at ali.banchiere@rainbowlearning.org with your name and your child's name, age and grade.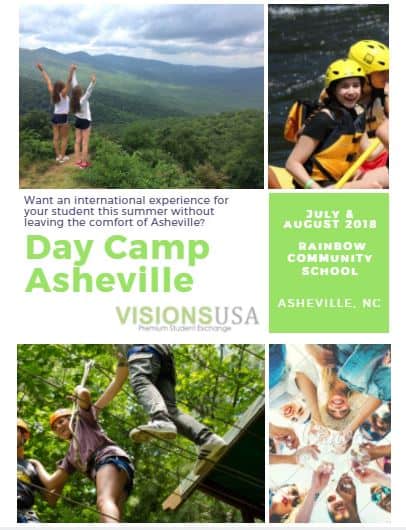 VisionsUSA Day Camp – Asheville
Led by 5th grade Assistant Teacher Katie Wilson
Different Camps Each Week Beginning in July, Going Through August 2018 – For all students ages 9-18
($105 – $160, depending on camp/week) 9AM-5PM
VisionsUSA is an international exchange program bringing students from Spain, Germany, and even Cambodia to experience Asheville. However, YOU don't have to be an international student to participate! Day Camp programming is available to all Asheville residents, for students age 9-18. Students participate in excursions such as white water rafting and Carrowinds theme park, and when international students are in their ESL classes, American students can take Spanish, German, or Italian introductory classes.
Enrollment is open!

Activities include:
Introductory classes in German, French, Spanish and Italian
Afternoon activities include hiking, bowling, swimming and much more
Day trips to surrounding attractions such as Dollywood, white water rafting, and more
A Volunteering component to the program
Opportunities to host international students