We live in a time of uncertainty, in a world that is unpredictable and in a society that is, in some cases, changing rapidly and in others stuck. Nevertheless, our work as educators is more important now than ever.
As an organization, we aim to live our mission everyday. Some days we do so effortlessly and seamlessly. Other days we detour, stumble and struggle. Many days yield cheer and celebration, yet many yield mistakes and misunderstanding. Regardless of the outcomes, we see them ALL as an opportunity to deeply reflect, adapt and grow.
We are an organization on a transformational journey informed by these opportunities, guided by our hearts and our spirits and fueled by our mission.
We develop accomplished, confident, and creative learners who are prepared to be compassionate leaders in building a socially just, spiritually connected, and environmentally sustainable world.
As a teacher, to live this mission means that you are intentional about circling back to it and that you are willing to hold a mirror up to your classroom culture and programming. These opportunities often show up in unexpected ways but, if you are waiting with that mirror, some amazing learning can happen.
Spirit Week at RCS
Next week is Spirit Week at RCS. This week fills our school classrooms, campus and culture with fellowship and fun. It invites costumes, and creativity while building community. As Student Council began to flesh out the daily Spirit Week themes, they stumbled on an opportunity- a real teachable moment. In an effort to give this teachable moment greater context, our Equity Director wrote a letter to our families.
"In the interest of our ongoing efforts to be more mindful of equity, we are eliminating 'Crazy Hair Day' from our Spirit Week schedule. There are a couple of concerns about this practice. To begin with, the regular and loose use of the term 'crazy' is disrespectful to those who live and struggle with mental illness. Even if we are innocently using the term to refer to something that is different and/or weird, we need to ask ourselves if that's really the message we want to send about hair. While there are some really cute and elaborate ideas out there for  'Crazy Hair Day', all too often, the expressions that come out of this Spirit Week practice are styles that closely resemble (intentionally or not) actual cultural and ethnic hairstyles. The suggestion that those styles are crazy or weird is offensive. Would it be 'crazy hair' if a child with curly hair came to school with their hair straightened for the day?
Here at Rainbow, equity is a practice. So we're using this as a teachable moment for our students. Some of your teachers are taking this time to talk about culture and cultural practices, and concepts of 'different' vs. 'weird'. If you want to continue these discussions at home and feel like you could use some supportive material, please reach out to our Equity Director. In addition, HERE is a link to a very thoughtful post from a parent about 'Crazy Hair Day'.
Teachable Moments
This topic became inspiration for a 4th grade centering practice. Centering began when the class found stillness and silence. The candle was then lit for "safety" and the teacher began, "Yesterday we talked about physical safety and today we will talk about emotional safety."
Susie, the teacher, followed by asking for a volunteer to read Rainbow's mission statement. She then asked, "Where does this come from?" The kids responded, "The School!" She explained that this was our mission statement and ultimately our hope for each action, every day.
Around the altar were the words Ethnic and Culture. The teacher asked the students what these words meant to them. As a group, the kids built collaborative definitions and came to some common understandings of each word. Susie then revealed a final sheet of paper with the phrase 'Crazy Hair Day' written on it and began touching on some of the concepts that were explained in the above letter. Finally, she began showing the group images of hairstyles that were based on the cultural or ethnic backgrounds of the people pictured.
These images were passed around the circle in silence. The students were asked to simply use their powers of observation, acknowledge any reactions, consider the terms 'ethnic' and 'culture' while making mental notes as they cycled through each image.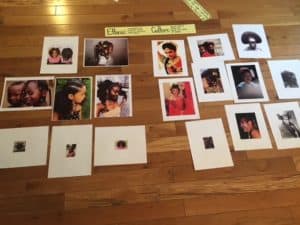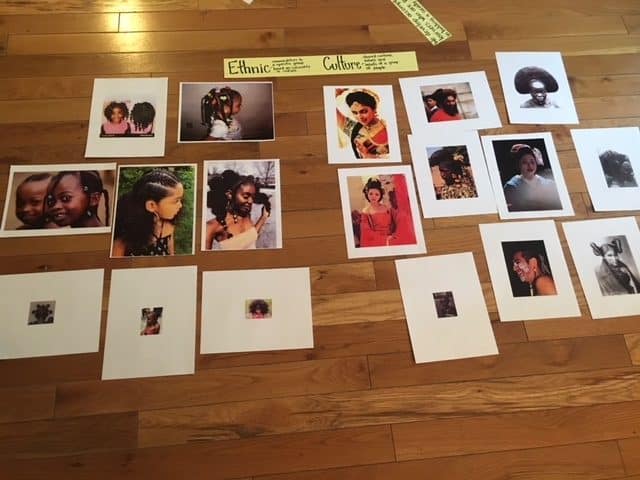 In closing, Susie asked to kids to try to weave all the centering elements together and identify the message that she was trying to share with them. One child responded,"By saying something or someone is crazy, you are judging them." Another student said, "The things that may be fun for me, like crazy hair day, could really hurt someone else. This might be the way they do things and if you make fun of them, it could hurt their feelings." Another child said, "What you might consider crazy hair for you may be they way that others wear their hair everyday." One noted that, "Yesterday we talked about how some cultures greet people in different ways we should think about how some people wear their hair in different ways." Susie ended with a simple statement about how we, for the last several years have been hosting Crazy Hair Day and upon reflection and insight we have realized that this choice does not fit within our mission statement. As a community, we decided to let go of it because we strive for emotional safety for all.
Now what?
Consider your personal mission statement or that of your school or organization. Reflect…
What are you doing to successfully achieve this mission? Celebrate that!
Now consider, how can those mission statement words be better represented with action?
What changes to your direct practice can open up pathways of learning for you, your family and/or your students?