An altar is commonly associated with a religious purpose. It is often a structure or space, considered sacred, on which offerings are placed and used in a rite or ritual. However, we often create altars to honor various things that aren't necessarily associated with a religious purpose.
We make altars all the time, some intentionally, some unintentionally and others out of habit. Consider how you may arrange your collectibles, how you may display your family photos or art, or how you may plan your garden. Think about the forts or fairy homes that your kids make in the backyard or how they arrange their special artifacts or favorite toys. With these "altars" we aim to elevate, focus energy and/or bring special attention to something.
Altar creation can be a very powerful process. It provides a space to slow down and reconnect to something very personal or meaningful to you. Creating a spiritual altar can also be a physical and visible representation of an intention you may have. It may also serve as a sacred way to invite spiritual energies and questions into your life . Ultimately, altars become focal points or reminders of our inner spirit and our connection to the divine.
Altars are very much a part of the culture of Rainbow
They are found in every classroom, used each day in centering practices and are often created by the students. The elements used in each altar vary but are often reflective of the season, the theme that the class may be studying, or the message the centering practice intends to convey. Below are some classroom altars.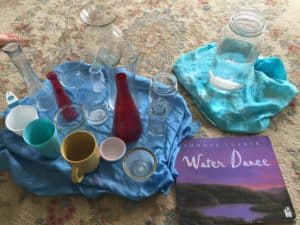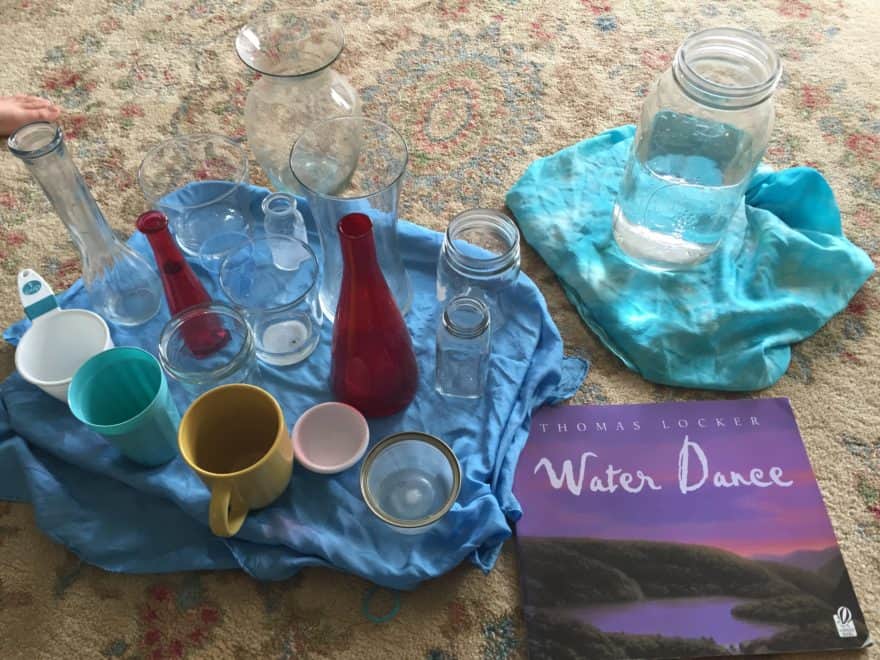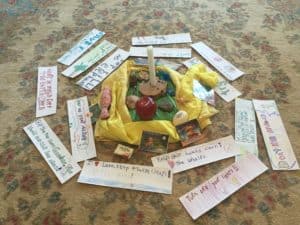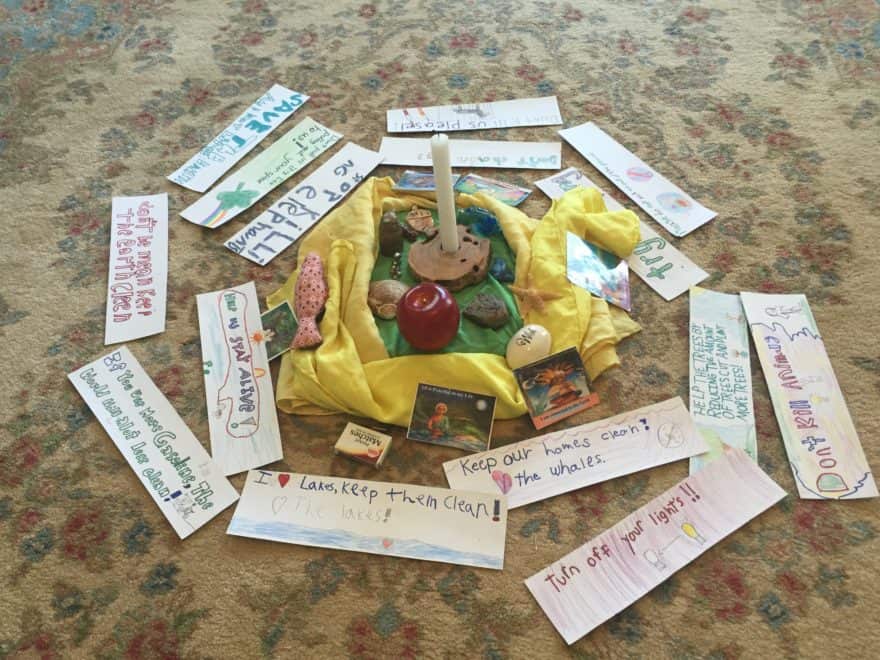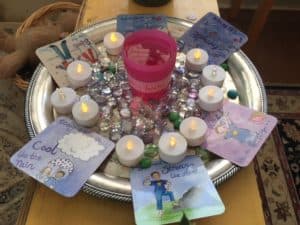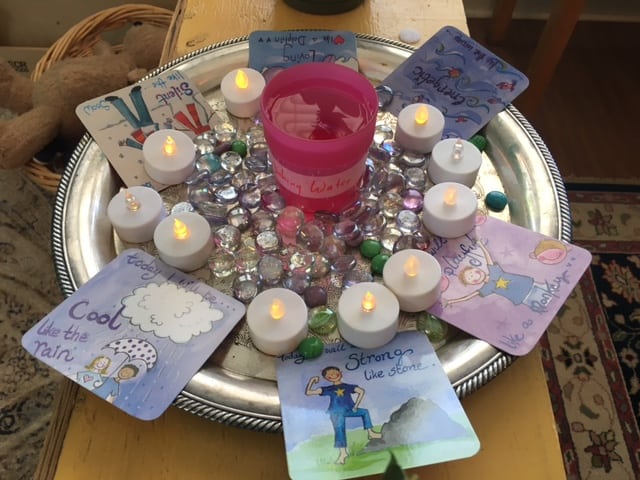 Co-creating altars
In an effort to raise money for their end of year trip, some of our students recently designed, created and sold traveling altars. Each altar provides various resources and tools that may help others to bring a centering practice into the home.
The tablecloth serves a way to transport the altar as well as an aesthetically pleasing foundation to set up the altar.
The candle, when lit, sets the tone for the practice and invites spirit into the room. It is also a visible reminder to celebrate the light in ourselves, others and the world around us.
The shell demonstrates our connection to the natural world. Displaying nature artifacts bring forth the wonder and magic of the natural world and reminds us that time in nature can yield deep connection and contemplation.
The painted rock displays a word of intention and reminds us to aim to bring positive emotions into our lives.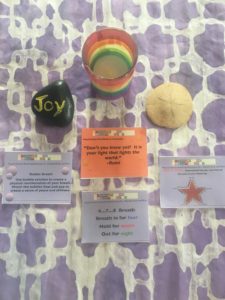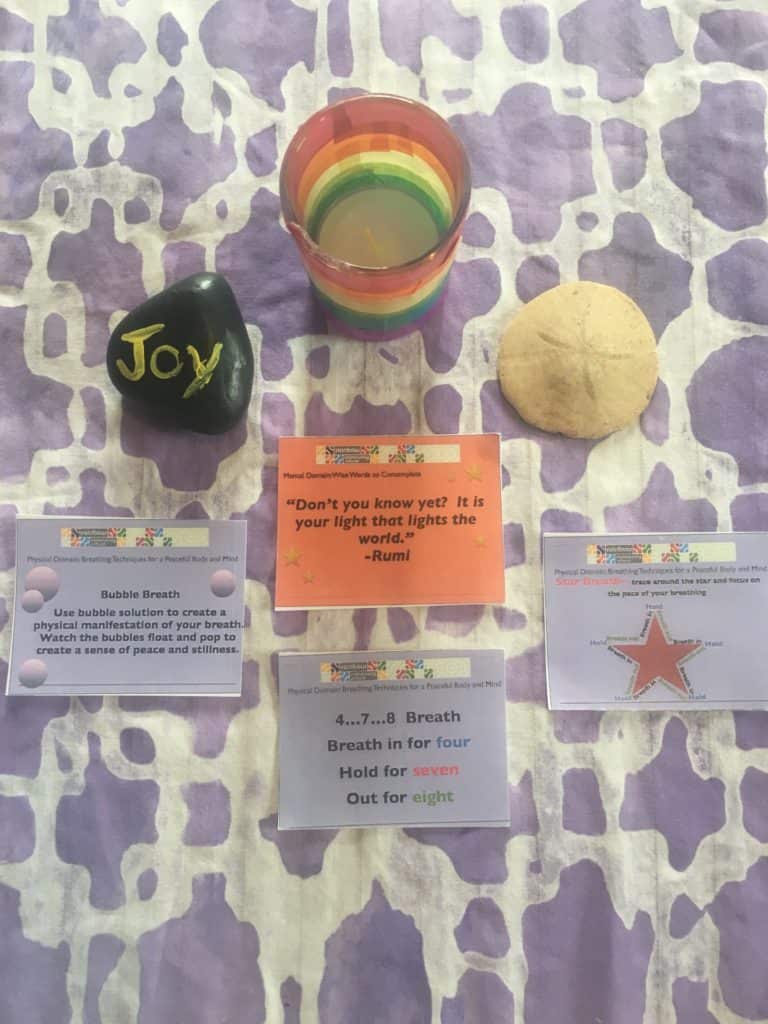 The blue cards share three different breathing techniques that help the mind and body achieve awareness, presence and peace. The orange quote card is intended to engage the reader's mental domain by encouraging them to reflect on words of wisdom. The yellow cards highlight social conversation questions posed by the students. These cards encourage the readers to ponder big questions such as, "When and how was the universe born?" and "What happens after death?" or ask the reader to personally reflect on things like, "What type of personal do you hope/aim to be?" or What helps you to feel calm and grounded?"
How might these inform your practice?
The creators of these traveling altars were hoping that the altars would prompt centering practices within the home. The elements of each altar are simply starting points out of which family ritual, contemplative practice and spiritual development can grow.
Consider what your family or classroom altar could look like. Where might it live? What elements would you include? What question cards or breathing techniques could be added to this package? What inspirational quotes might serve your family or classroom?