Rainbow Has Solar Power
Have you seen what's over on the roof of the auditorium? Getting solar power was one of those far-off dreams until…it became reality!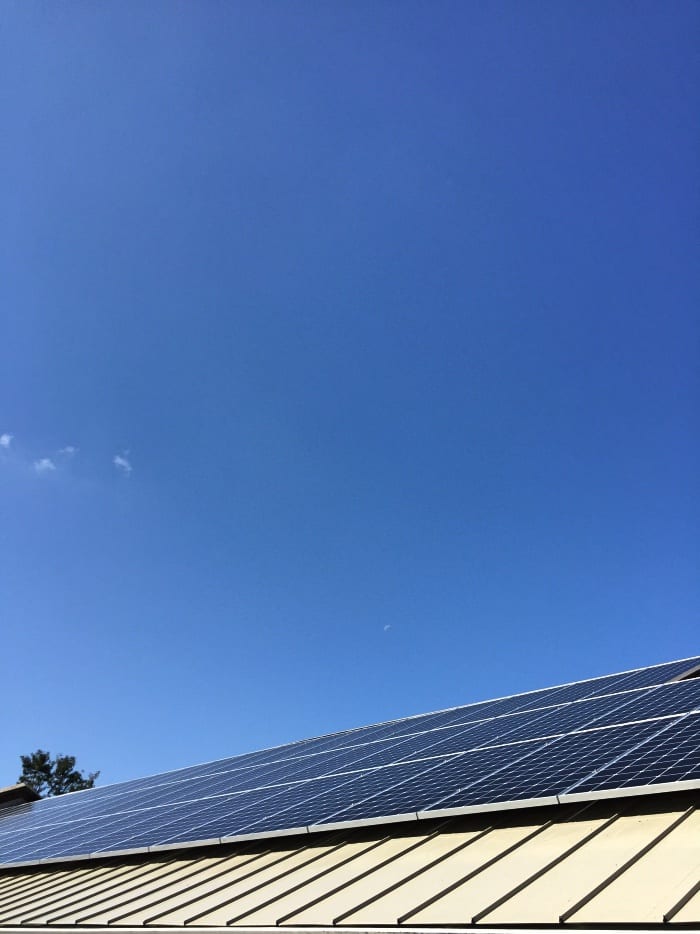 In 2017, an anonymous donor awarded Rainbow the funds to get solar panels installed. These are located on the east side of the auditorium. This donation will help to reduce the school's reliance on fossil fuels.
In fact, the installation of these solar panels will provide a benefit of 60+ years. The bulk of Rainbow's utility bills go toward the auditorium. It's a big space. Heating and cooling can get expensive.
There's also the environment to consider. Rainbow will reduce its carbon footprint by huge margins. The solar panels help to reduce the school's utility expenses while helping the planet. In about 30 years, the panel efficiency will go down some, but will still yield significant energy savings.
Interconnection
Over the course of the process, one of our Rainbow parents had been in touch with representatives from Duke and other organizations to get the interconnections turned on. "Interconnection" means how a "distributed generation system, such as solar photovoltaics (PVs), can connect to the grid." (Source)
A local solar installation company, Sugar Hollow, installed the solar panels late in 2017. The school had to wait until 2018 to turn on the interconnection. This was due to a rebate from Duke Energy, which also helped with significant savings for the school.
When Sugar Hollow installed the solar panels, they felt really connected to the school and what it stands for. Sugar Hollow is a living wage certified company and their philosophy parallels Rainbow's mission:
At Sugar Hollow Solar, we care deeply about moving our society towards a more sustainable future – not just in the environmental sense but in how it relates to overall quality of life, now.
The panels they used for installation were manufactured in the US, as well. As a company, they work hard to source everything here in the US.
Because this was the first year that Rainbow started the interconnection process, it took awhile to get the power systems connected, approved and ready to go. When it came time to "flip the switch," the whole school community was so thrilled and the anticipation was palpable. Rainbow elected to have a school-wide celebration to commemorate the event.
Sugar Hollow also joined us for that celebration. Now, students will be able to tell exactly what the solar panels are doing moment by moment that demonstrate power output and usage. Check out the Solar Power Resources  section on our website. It has the link to the energy performance of the solar panels.
Since the founding of Sugar Hollow, they have surpassed 1.5 gigawatts hours of energy generation – from the sun! That's like planting 28,931 trees!! We have so much gratitude for these folks and the work they do!