This month's team highlight: Tracy Hildebrand
We'd like to introduce you to Tracy, Rainbow Community School's art teacher. We found her in the art room and asked if she'd agree to answer questions for a team highlight. She has some fun answers to our questions. We hope you'll enjoy!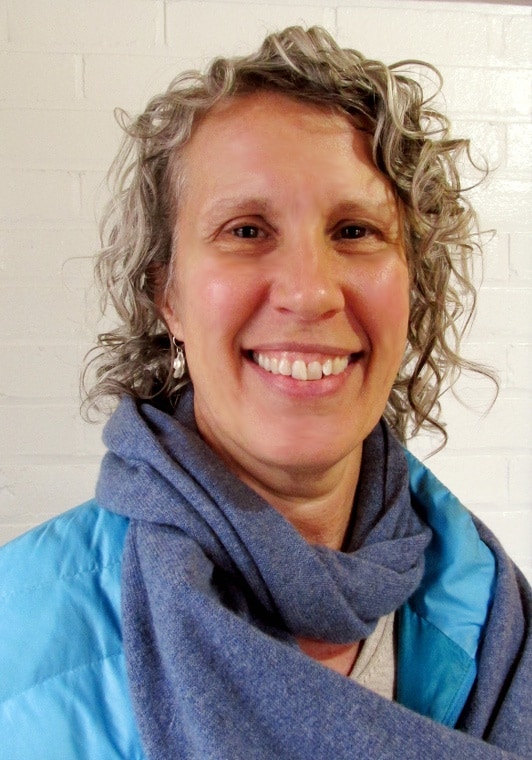 You've taught in Virginia before. Are you originally from there?
I was born in Norfolk, Va , attended college there and taught art in Norfolk Public Schools for 7 years.
I took a break from teaching in 1992 and moved to Western North Carolina to work at Nantahala Outdoor Center where I worked teaching kayaking, guiding river rafting trips and working in the outfitters store.
I realized soon after moving here that this area is my true spiritual home.
How did you find Rainbow?
When my husband and I were looking for a kindergarten for our daughter, a friend recommended we visit Rainbow. We knew right away it was the right fit for her. Emily attended RCS from K through Omega and is now a sophomore in high school.
What do you like to do when you're not at Rainbow?
Mostly I love to spend time with my family hiking, paddling rivers, and camping. I also enjoy gardening, cooking, yoga, and taking walks with our dog, Teeka.
In addition to teaching art, it looks like you make jewelry. What sorts of art do you like to create?
I don't make jewelry anymore, actually.
What's the best way to start the day?
Sitting on our front porch sipping coffee, reading a good book, and watching the birds visit our bird feeder. I love observing them and seeing how they interact with each other.
What book(s) are you reading?
Braiding Sweetgrass by Robin Wall Kimmerer, and I highly recommend it!
What's the farthest you've traveled from home?
I traveled to Rio de Janeiro with my Mom. She was born and raised there until she was 20. I was able to see where she lived as a girl.
If you could talk to any person, living or deceased, for half an hour, who would it be?
I would love to spend time with Georgia O'Keefe. I admire her strength as a woman and that at one point decided to lay aside what she had been taught in art school and developed her own technique and style. In addition, she lived a very unconventional life for a woman in her time. I admire that she lived her life on her own terms.
What is something your friends would consider "so you"?
My husband and daughter consider anything to do with flowers a 'Tracy thing'. I especially love wildflowers – to find them along a woodland trail brings me great delight. I grow native wildflowers in our yard.
One of my dearest friends shared all kinds of native flowers from her yard with me years ago; mayapples, ferns, soloman seal, columbine, and many more.
One of my favorite quotes is "Earth laughs in flowers" by Ralph Waldo Emerson.
We hope you enjoyed Tracy's team highlight. Don't forget to tell her that "Earth laughs in flowers" when you see her!