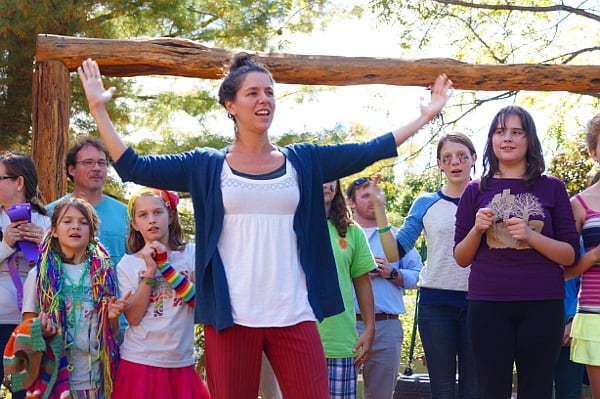 Lisa Saraceno – Fourth through Eighth Grade Spanish Teacher
Lisa loves teaching Spanish and she enjoys bringing playful passion and creative insight into her Spanish classroom every day! Lisa actually never planned on becoming a Spanish teacher! It was something that fell into her life and wound up inspiring, motivating, and feeding her in deeply meaningful ways. She gets a kick out of remembering her own Spanish teacher, a loving, fiery Cuban teacher whom Lisa adored, and now thinks of themselves as peers!
Lisa's favorite teaching environment is Rainbow Community School where she feels inspired and loved. She is happy to inspire and loves her students – and all of the Rainbow community!
A daughter of Italian immigrants, Lisa loves languages and cultures and Rainbow! Lisa feels strongest in the natural and creative domains and takes every possible opportunity to support vocabulary learning with artistic projects.
To center herself, Lisa meditates and spends time in the outdoors engaging in the natural domain through hiking, river and camping fun, and swimming!
Something you might not know about Lisa is that when she was growing up she was obsessed with marbles. She had hundreds of marbles, each with at least seven different names, whole life stories, tupperware homes, families, and life dreams! She says she still loves marbles to this very day. Lisa is committed to teaching the whole student within every domain with a playful, loving spirit.
You can reach her at: Lisa.Saraceno@rainbowlearning.org