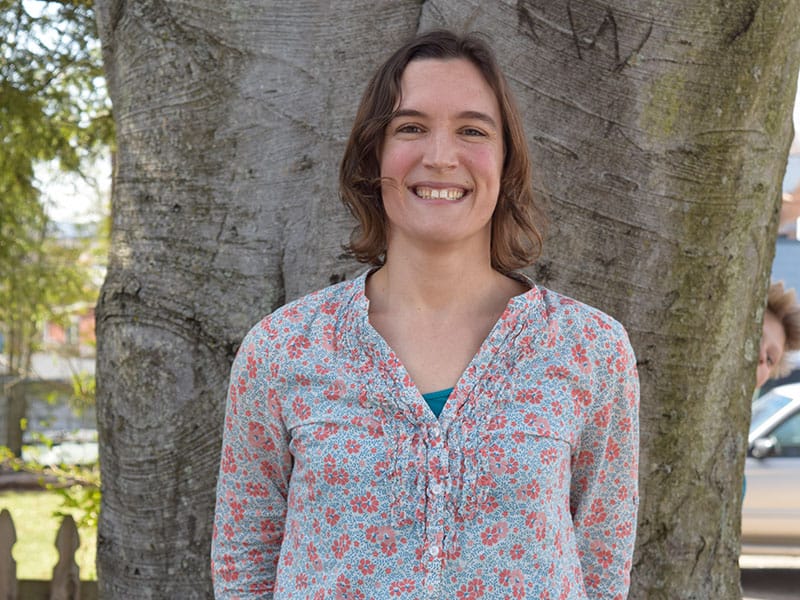 Niki Gilbert – Omega 7/8 Science & Math Teacher
Of the many things Niki loves about Rainbow, one of them is the holisitic approach to teaching and learning. As a science teacher, Niki strives to engage kids through well-rounded experiences that include art, inquiry, design, outdoor adventure, local issues, and personal passions. Niki believes firmly in the power of teenagers to make meaningful contributions to science and to create positive change in their communities. She sees the explorations of spirituality and culture that also take place in Omega as key to developing people who are ready for the social and environmental challenges of our time.
Niki found that her passions were rooted in being outside, understanding ecosystems, and sharing a sense of discovery with others. This set her on a path to exploring the natural world wherever she goes and to pursuing life as a teacher. Before joining Rainbow's Omega Middle School in 2015, Niki spent a decade helping to build the math, science, and middle school programs at Four Rivers Charter School in western Massachusetts.
Outside of the classroom, you can find Niki with her own two kids, Sara and Owen, and her husband Andy. As relative newcomers to Asheville, they're often out exploring hikes, streams, playgrounds, arts, and restaurants around town. Niki is excited to live in a place of such extraordinary biodiversity and can also be found brushing up on her tree IDs or trying to spot the elusive hellbender.
You can reach her at: Niki.Gilbert@rainbowlearning.org