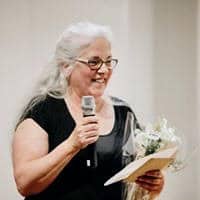 Sue Ford – Marimba Band Elective Teacher
Sue Ford was born and raised in North Carolina into a musical family. Her childhood was filled with musical pursuits that grew into a dynamic professional music and performance career. Sue became the music teacher at Rainbow in 2003 until she got the opportunity to start the marimba program at Evergreen Community Charter School in Asheville in 2006. Sue returned to Rainbow in 2013. She loves working at this school where the arts are truly supported and encouraged with the Seven Domains learning model. Sue now shares her talents as an elective teacher in Omega Middle School.
Additionally, Sue performed with Chikomo Marimba for six years and now has her own marimba school for students from any school in the area as well as adults. Village Marimba School is part of Asheville Rhythm with classes held during after school hours on the Rainbow campus.
Contact Sue at sue.ford@rainbowlearning.org.