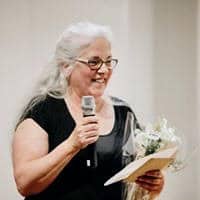 Sue Ford – Marimba Band Elective Teacher
Sue Ford was born and raised in North Carolina into a musical family. Her childhood was filled with musical pursuits including choir, piano lessons, singing and guitar playing and school band and orchestra. She continued music studies in college while studying environmental education at Warren Wilson College receiving a biology/naturalist degree at Appalachian State University.
She married Hobey Ford and started raising and homeschooling their three daughters. Hobey's puppetry career flourished allowing him to bring the family along on gigs around the country. With the support of Hobey, Sue was determined to keep learning and to become a life long learner.
She studied music (songwriting and composing, African drum, marimba and balafon, Suzuki cello, banjo, guitar and drum set) and movement (yoga, ballet, modern and tap dance) with many wonderfully different and eclectic teachers. She performed with a women's folk trio, her family marimba band and with Womansong as assistant director and accompanist. She eventually performed her own original music, producing a CD called "The Water is Fine".
With the encouragement of Jane Stanhope and Mary Virginia Bunker, Sue became the music teacher at Rainbow in 2003 until she got the opportunity to start the marimba program at Evergreen Community Charter School in Asheville in 2006. Sue Ford implemented and developed Evergreen's music program and gained renown over 14 years for taking the middle school band out in the community with authentic performance and recording experience, producing five professional recorded CD's. She also directed a multi-generational community chorus for which she composed and arranged music. She was awarded Evergreen's "Associate Teacher of the Year" in 2008.
Sue has presented student performances and workshops at the North Carolina Charter School Conference, the National Orff Music Teachers Conference, the Children's Music Network Conference, the National Expeditionary Learning Schools Conference, the Asheville Women's Conference, "Time For Our Power" and the Sister Singer Network Conference.  Her song, "Heal Me", was chosen as one of the choral works for the mass choir to perform at the Sister Singer Network Conference in 2014.
Sue has studied music at Western Carolina University and UNC-A and obtained her music teacher training at the University of Kentucky in Lexington.  
She is certified in all three levels of Orff Schulwerk and continues to be a member of the professional organization with access to workshops and online resources.
Sue returned to Rainbow in 2013.  She loves working at this school where the arts are truly supported and encouraged with the Seven Domains learning model.  She really enjoys collaborating with other amazing and talented Rainbow teachers and students in creating original material for both the annual winter program and the spring show IMAGINE.  You can join Sue and 2nd grade teacher, Eddy Webb for Song Circle where preschoolers through 5th graders all come together to sing – every Tuesday at noon on the Rainbow campus.
Now, Sue Ford is a community music facilitator. She has over 20 years experience teaching music to people of all ages in different settings including her years at Rainbow. She has also been a performing and recording musician, writing her own material and leading choirs and marimba bands for many years. 
Sue has been voted "Best Music Teacher" for five years running in the annual Mountain Xpress "Best Of" poll.