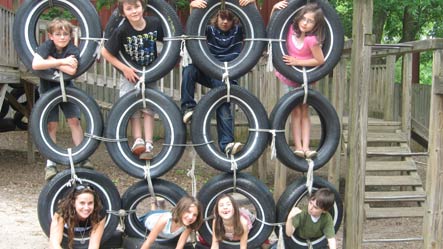 Dulcimers made and played, beautiful clean hardwood floors to hold morning circles, private lockers for preteens in Omega, creative art supplies for budding artists in preschool and the lively interactions on the playground of a truly economic and socially diverse group of children…
Where do all these additions to enrich Rainbow Mountain Children's School come from? They are made possible by each and every Rainbow Mountain family making their tax-deductible donation to the Rainbow Mountain Foundation. The Rainbow Mountain Foundation has for over fifteen years enriched our school and paid for creative and practical ideas and supplies for our wonderful, dedicated and talented teachers to enrich our children's experience like no other school.
What and who is the Foundation? You, each and every Rainbow family, from preschool to Omega are the Rainbow Mountain Foundation and the way to support all the extras that every school requires.
The Foundation's goal this year is $55,000.  We move toward our goal with this letter to your family and plan to celebrate your support for our children by December. Please take the time now to pick up a pen and write out a check to the Rainbow Mountain Foundation, or simply indicate on the form provided the amount you wish to have billed to your account. It is essential that we all participate, whether we choose to forego a Friday night pizza and movie or we have the ability to make a large donation, each and every donation adds to creative programs and supplies that make Rainbow Mountain Children's School a special place to grow and learn.
We all have so much to be thankful for at Rainbow Mountain Children's School: a loving community of families; healthy children, eager to learn and grow; and motivated, talented teachers.  Let's show our support today.  If you have questions, please ask one of the volunteer Foundation members or your class parent. Some additional information is provided on the back of this letter about the Rainbow Mountain Foundation.
With love and gratitude,
Sarah Corley
Chair, Rainbow Mountain Foundation
Rainbow Mountain teachers offer our children education from the heart to the heart. In order to do so effectively, they need your support.  The Rainbow Mountain Foundation provides a classroom allowance to each teacher to spend on items needed to effectively teach your children.  Maps, microscopes, books, chairs, and lockers, are all items that teachers have purchased with RMF funds to enhance the learning environment in their classrooms.
Rainbow Mountain should be open to anyone whose heart calls them to the school, regardless of material wealth. You can make this vision a reality through your donation to the RMF.  Money raised by RMF goes to provide scholarships to families who could not otherwise afford the tuition.  These families increase the economic, social and cultural diversity that make our community vibrant.
Rainbow Mountain nurtures children in all realms: spiritual, emotional, social, physical, and intellectual. This holistic approach to education requires a strong emphasis in the arts, which connects all the domains.  Funds raised by the Rainbow Mountain Foundation support visiting artists in residence at Rainbow Mountain.  Students have learned puppetry, performed on their own hand-made dulcimers, choreographed and performed original dances, and sung and recorded original world music — all drawing upon the wealth of local artists in our community.