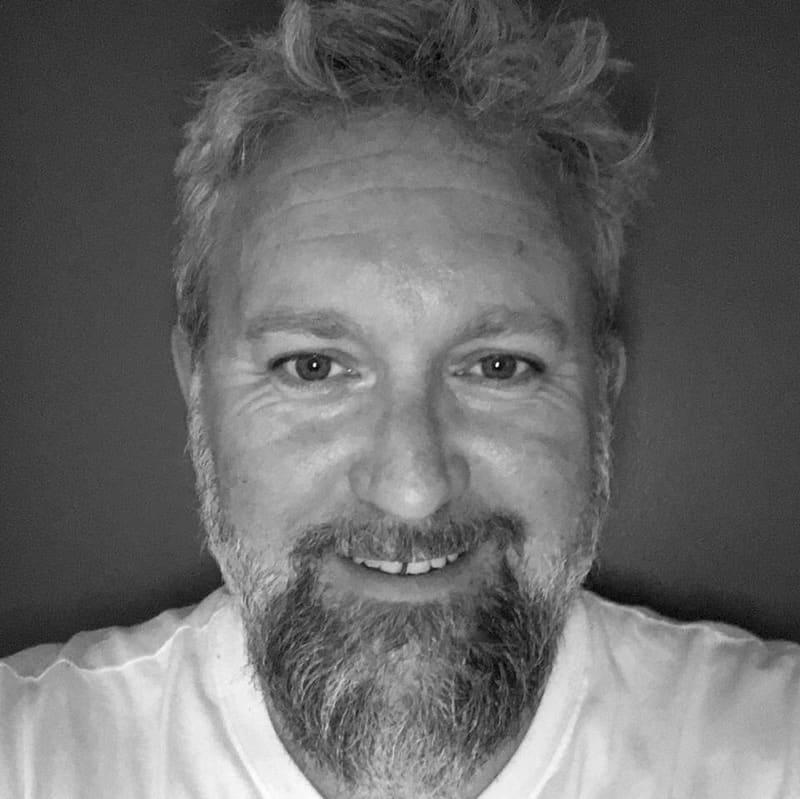 Will Ray – Director of Counseling
Will Ray was raised in a home filled with Doc Watson and Mahalia Jackson, Shakespeare, religion & existentialism, and a pressing thematic of social justice, activism, and politics. His parents were deeply involved in the Civil Rights movement in Charlotte, much being centered on the issue of equality and busing, and integration of the Charlotte Mecklenburg Public School system.
Education & Experience
Will studied Philosophy & Religion, and Creative Writing as an undergraduate at St. Andrews University. While in college he met Lauren, the love of his life, later to become his wife, yet always his "much better half." After college, Will entered the path of heart and service working as a Teacher's Assistant for severely and profoundly disabled pre-school children in a rural community school in Laurinburg, NC.
He moved to Asheville in 1995, where he began his first stent on staff at CARING for Children, working for five years as a Residential Counselor at both "Trinity Place Runaway and Homeless Youth Shelter" located in downtown Asheville and, "Our Place," at the time an emergency shelter in East Asheville for children in emergency and severe crisis-based situations. In 2001, bringing several years of academic work to a close (at UNCA's Teacher Licensure program, and further studies in the Liberal Arts) he and Lauren moved to Chicago where, they both attended graduate school and received clinical training at the University of Chicago.
Will worked full time at the University while completing his graduate studies. This work was in an historical educational and psychiatric residential treatment facility on campus called the Orthogenic School, which the student-patients referred to as the "O School."
At the "O School," Will developed Creative Writing, Primitive Arts, and Musical Arts Therapy groups and gained extraordinary experience working with an amazing group of children and adolescents of all ages, and a range of different strengths and struggles. Such strengths and struggles including: high functioning autism, obsessive compulsive issues, depression, anxiety, varying physical and mental health complexities, and more.
Returning to Asheville
Will and Lauren returned home to Asheville in 2006. Since returning, Will has not only worked in the mental health field, but also has been on the Adjunct Faculty at Warren Wilson College. Along with teaching standard curricula courses, Will developed and taught two elective courses – "Mindfulness, Meditation, and Meaning," and "Death, Creativity, Life of the Psyche." These two were by far his favorite teaching experiences, and he hopes to one day be led to develop them into a different format, perhaps as a book, or a more dynamic experiential coursework open to anyone, and more community than academia-centered.
Director of CARING for Children
The past 5 years, Will served as Clinical Director for CARING for Children, a local non-profit which offers a wide range of supportive care and treatment to many families in distress or crisis who live in our community and are facing varying levels of need. When Will took on this role at CARING in 2010, his vision and charge was to build a clinical program which would not only serve the children and adolescents already in CARING for Children's care, but also to create a way of reaching many more children and families who were in need and deserving of a highest quality of care. Upon leaving to join Rainbow, CARING had an endowment of 38 therapists (7 being full-time employees), 2 contracted Doctors, 2 psychiatric Nurse Practitioners, an amazing Administrative team, and 3 full time office staff members making up the program, whom together, were serving near to 1700 children and families per year.
While at CARING for Children, one of Will's roles was that of clinical liaison and educator, where he supported and trained residential, clinical, and administrative staff. He has also trained faculty at AB Tech on both mental health knowledge and structures of service delivery and on ways and means for best supporting individuals/students with mental health struggles. He just recently completed a Duke University and University of North Carolina at Chapel Hill facilitated, year-long admin and clinical training program in Trauma Focused Cognitive Behavioral Therapy (TFCBT) through the NC Child Treatment Program.
Inner Alchemy
He is a practitioner now for Clairvision meditation work, which includes what Jung would refer to as a form of Inner Alchemy. This meditation work includes a modality of somatically-based practices known as Inner Space Techniques (IST) and Inner Space Interactive Sourcing, which leads individuals into explorations of inner worlds. A path embodying both deconstruction and construction of the self. The practices lend themselves to an intentionality and dynamic awareness; with healthy and clear correlations to other Paths of Heart, including Vedic traditions, Anthroposophy, Taoist Alchemy, Tibetan and other Buddhist works, and certain other Christian inner traditions or lineages – all of which, guide in their core tenets, ways towards good walking in balance, deeper compassion, greater strength and knowledge, and peace. In collaboration with a local holistic psychiatric Nurse Practitioner, Will is in the beginning stages of co-developing a meditation series designed to support and honor human service professionals in our community.
Other Interests
He loves landscaping and working with Earth, taking an Arts-based approach to working the land through inner vision – with particular love for stonemasonry, preparing garden plots, and geometric design. He wants to express to everyone how exceptionally appreciative and humbled he is in being asked to become a member of the Rainbow Community. He extends great thanks to all, especially Sandra, Renee, and Margaret for the warmth and love shown to him since entering this new time in his life. It is and has been truly, a radical change for him, and, has been beyond expectations.
You can reach him at: Will.Ray@rainbowlearning.org.