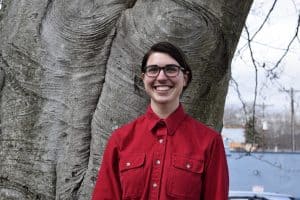 Angela is wildly passionate about community and empowerment. And there's nothing they feel more passionate about than empowering children with the tools to find meaning and wonder in their world every single day. Having grown up in a multilingual family and multicultural community, Ange discovered early on that language is one of the most effective tools we have to build community and to discover whole new worlds previously inaccessible to us. They grew up speaking Portuguese, German, and English and went on to become fluent in French and Spanish as well. Ange has continued their Spanish studies in Spain, Mexico, and Ecuador and has since tutored elementary and middle school students. They have been overjoyed to to bring their lifelong love of learning foreign language to the classroom.
In their undergraduate studies at Pitzer College, Angela developed a self-designed major called, "Decolonization through Theater & Dance". Angela believes in the power of theater and dance as tools for social justice and personal transformation. Here at Rainbow they've shared their love of applied theater through a "Theater of the Oppressed" elective with our Omega students. As a story-teller, Angela has also dived into creating social media narratives that highlight Rainbow's unique position as a national leader in holistic education.
Angela is so grateful to work within such an inclusive, mindful, and compassionate community. They are inspired everyday by the administration's and teachers' heart-centered approach to education, community building, and social change.
You can reach them at Angela.Moore@rainbowlearning.org