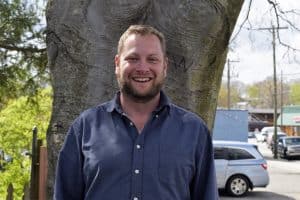 Bryan Gillette feels fortunate to have engaged with one of his lifelong passions by earning a BA in religious studies (comparative religion) at the University of North Carolina – Asheville. He also brings two decades worth of experience working and learning alongside youth in a variety of settings. Now Bryan is THRILLED to be a part of a community that values contemplation, compassion, and service in the educational milieu!
Bryan began his professional journey back in Ohio as a zoo educator where he introduced preschool and elementary aged youth to the tiny zoo's menagerie of education animals. With trembling limbs and a sweaty brow, he quickly realized he was willing to do just about anything to keep kids engaged in learning, even if it included holding a friendly, but all-too-large Chilean Rose Hair Tarantula named Shirley Temple.
Leaving arachnids and the countryside behind, Bryan began working with "at risk youth" at a youth shelter in Columbus, Ohio. It was during this time he met a client who helped shape his interest in supporting individuals on the autism spectrum. Bryan trained in Applied Behavior Analysis and was later introduced to TEACCH. Continuing this work in Asheville, Bryan followed the "whatever works best method" to help students on the spectrum throughout Buncombe County as an autism outreach assistant. Most of this time was dedicated to elementary and preschool classrooms. .
When not dreaming about spiders and best practices in education, Bryan loves to spend time with his husband, Brad, and young son, Cade, in the outdoors. To sustain his spirit, he also enjoys meditation, reading, and yummy vegetarian cuisine.
You can reach him at: Bryan.Gillette@rainbowlearning.org