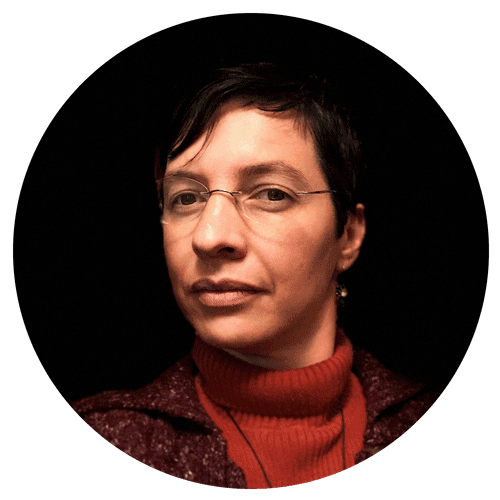 Cynthia Calhoun – Communications Coordinator
A Polymath Juggler
Cynthia is a polymath (n. a person who enjoys wide knowledge or learning) juggler of different tasks at Rainbow. With an eye for design, she curates her canvas of designing the school's website, adds splashes of social media happenings to Rainbow's social media accounts, and twinkles her fingers on the keyboards of colleagues, should they need a little help with technology.
The Great Lands of Public School
Before finding the magical land of Rainbow, Cynthia worked in the public school landscape. Her view from the sky showed a varied perspective filled with interesting opportunities. She dabbled in other worlds and cultures through teaching the Spanish language. She served her fellow community for a year in AmeriCorps, and landed at AB-Tech for a time to inspire adults to twist their tongues and learn Spanish. Eventually, she wanted to see a different landscape and she spread her wings to fly to other pastures, not before soaring to be Teacher of the Year at Vance Elementary in 2011.
Coming to Rainbow
Cynthia's wings would fly her to Rainbow in January 2013. She performed linguistic acrobatics and taught Spanish to preschool through third grade. In the meantime, she felt the spark of a deepening spiritual journey and began doing early writings about it.
A Masterful Journey
Cynthia's hummingbird sensibilities flew her to Appalachian State to finish her Master's Degree in Spanish and Education in 2014. Shortly thereafter, her landscape would change and she embarked on a temporary journey to Western Carolina University, where she headed up an after school program that helped speakers of other languages to learn English.
The Technological Culture
All the while, her wings dipped their feathers in the culture of technology and she continued to blog about her spiritual journey, teaching herself the ins and outs of WordPress and website design.
Cynthia's guiding star returned her to Rainbow in 2017 where she became the Communications Coordinator. Her background in WordPress, as well as apprenticeships with various technology companies allowed her the expertise needed to head the marketing team.
A Multipotentialite
What does multipotentialite mean? It is a person who turns into The Flash. All kidding aside, it means a person has many skills and interests. Cynthia's life journey has allowed her to be a peregrine to dabble in myriad avenues. Most recently, she completed her 200-hour certification in teaching meditation and mindfulness.
Varied Interests
When she's not at Rainbow, Cynthia dives into meditation and spirituality, working and writing on her
website
, as well as working on family and friends' websites. She excels at doing art (digital, pen drawings, and acrylic painting) and tries to satiate her need to learn more about digital technology and marketing, which she can then apply to her work. She also enjoys the wind on her face while downhill mountain biking, carving slalom turns on black diamond slopes while skiing, and reading up on philosophical texts. She lives near Asheville with her husband, dog and two cats.
 She can be reached at cynthia.calhoun@rainbowlearning.org.