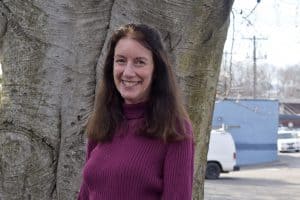 Doreen Dvorscak has taught kindergarten at Rainbow Community since 2004. She has taught creative drama, movement, and theater to preschool through college-aged children for over 30 years. She has also been active as an actor and director in university and professional theater productions. Doreen has a Master of Fine Arts in Child Drama and a Bachelors degree in Theater. She is also a certified children's yoga instructor.
As a theater major in college, Doreen had the opportunity to teach kindergartners creative drama, an approach that encourages children to develop their creativity through imagination and self-expressive dramatic play. After this experience, Doreen knew she wanted to use drama to work with children – especially kindergartners!
Doreen is passionate about helping her students open up to their own potential. She uses creative drama to nurture children's emerging sense of self and other, to develop physical dexterity, to enhance early literacy and math skills, and to stimulate their natural creativity and imagination. This approach also teaches children problem-solving skills and important social skills such as cooperation and empathy.
What Doreen loves most about teaching is helping children connect with their imaginations and with their physical bodies. Doreen has been blessed through most of her career to work in schools like RMCS that value and nurture creative expression and exploration.
When Doreen is not dancing, singing, play-acting, creating and learning with her kindergartners, she is reading, crocheting, digging in the dirt and exploring new ways to let her hands and heart dance.
You can reach her at: Doreen.Dvorscak@rainbowlearning.org