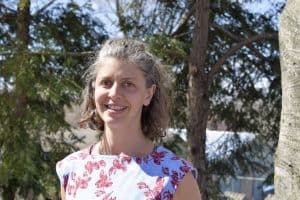 Lucy MacGregor is deeply honored to spend her days with young children.  She is inspired daily by their love, curiosity, authenticity, and presence to life.  While she is a guide to their learning in at school, she is clear that each day, the children are teachers to her.  She knows for sure that the connection she makes with each child is a gift to her heart each and every day.  
Lucy is a earned her Early Childhood Montessori credential through The Center for Guided Montessori Studies and taught at Swannanoa Valley Montessori School for six years in the Children's House.  Since then she has been teaching at Rainbow.  
Lucy believes that early childhood is a sensitive and powerful time in a child's life as he or she learns and grows through self-directed, hands on exploration with the environment. She creates a rich and nurturing learning space where children can explore their interests, discover the wonders of the world, learn about themselves, and develop friendships.
Lucy playfully brings mindfulness and yoga into the classroom. She is a certified Children's Yoga Instructor. After several years of training, she is also Certified through Mindful Schools as a mindfulness instructor.  In preschool (and at any age!) mindfulness is playfulness, and we learn to be aware of our inner and outer experiences through imagination, movement, and games… think wishing wells, bubbles, lions,and traveling in exotic lands.  We also learn how to relate to all our experiences – both joyful ones and challenging ones – with kindness and care.  
Lucy's own childhood was spent in Northern Ireland where she grew up. Her family immigrated to the United States and settled in Virginia. She lived in California, Oregon, and Colorado before moving to North Carolina to work with North Carolina Outward Bound School. Her roots and family have grown here in North Carolina where she shares her life with her family –  which includes Jay and her children, Elijah and Rowan, and their many animal friends.
Lucy enjoys sleeping under the stars, hiking, rock climbing, and floating down rivers. She is honored to be part of our community and to pass on the good that she has been gifted through her relationship with her teachers.
You can reach her at: lucy.macgregor@rainbowlearning.org