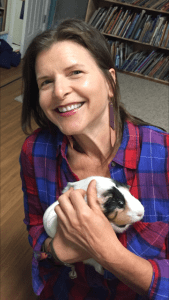 Phoebe received her B.A. in Sociology from University of Wisconsin-Madison. After college she worked as a case manager at University of Illinois Hospital and Clinics in Chicago. She then worked at Columbia University's Transitional Living Shelter in NYC helping mentally ill homeless women move into supportive residential housing.
Phoebe is an international traveler and has lived in Holland, Australia, Japan, Germany, and Italy. She's also moved extensively throughout America. Phoebe currently lives in Asheville with her husband and four sons and is thrilled to call Western North Carolina her home.
Phoebe has always been passionate about children. She can't remember a time when she wasn't babysitting nieces, nephews, or neighbors and always knew she wanted a large family. Before coming to Rainbow, Phoebe worked at Mission Hospital's Child Development Center caring for infants through preschoolers. She has been a Rainbow parent for numerous years and  is so happy to become part of the staff.
On the rare occasion Phoebe isn't surrounded by kids you can find her doing yoga, meditating, hiking with her two dogs, reading, or cleaning while listening to NPR.
You can contact Phoebe at:  Phoebe.Starck@RainbowLearning.org