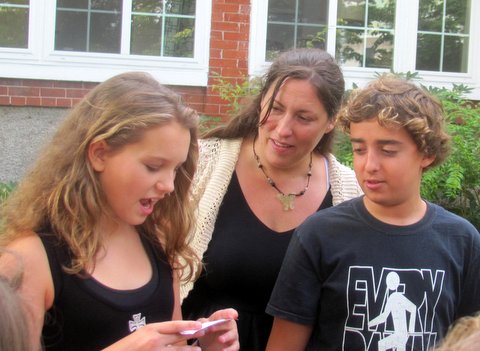 Susan Waddell – After School Director & Summer Programming Director
Susan has taught in the Omega Program since 2006. Prior to moving to Asheville, she spent three years teaching language arts and math in middle schools in Houston, Texas.
While in Texas, Susan also developed instructional curricula and enrichment programs for language arts, reading literacy, and math. Her efforts earned her several honors including an invitation to present her reading program to the Texas Middle School Association and recognition by WGBH of Boston for her after-school math program. With WGBH's support, Susan and her team produced an instructional video designed to help middle schools incorporate math enrichment activities in their after-school programs.
When Susan decided to move back East, a cousin directed her to Rainbow, "the best school in Asheville". This strong recommendation brought her to RCS. The school's emphasis on building relationships between students, teachers and parents is what keeps her at the school. Susan is passionate about the importance of relationship and trust-building; she believes these efforts inspire self-directed, curious and eager learners.
Susan enjoyed the challenge of teaching middle school students who can be adults one moment and children the next. Her students are enthusiastic and creative thinkers who sometimes need help figuring out how to get information from their fingertips to their brains. Susan loves giving them the tools to make those connections. She appreciates that Rainbow's project-based curriculum enables her to customize these tools to meet a variety of learning styles.
Now as Rainbow's After School Director, she brings her wonderful creative energy and extensive teaching experience to working with students across the grades at Rainbow. She organizes after school clubs and programs, as well as runs the Love in Action program. In addition, she coordinates and directs the summer programs at Rainbow Community School. She had a phenomenal 2022 summer season with record enrollment in the program – it was voted one of Asheville's Best!
When Susan is not helping her students set personal goals, collaborating on a mega-theme project, inspiring "light bulb" moments, or nudging kids out the door at the end of the week, she enjoys spending time with her young family, running, reading, enjoying music, and knitting. If she can find a spare half hour, she enjoys catching a home improvement reality show.
You can reach her at: susan.waddell@rainbowlearning.org