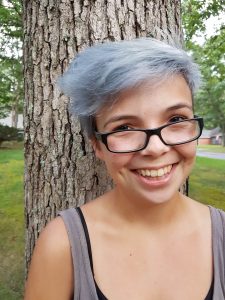 Paris got her start at Rainbow in 2007 when she enrolled as an 8th grader in our Omega Middle School program. She was extremely fortunate to have Susan Waddell as her teacher that year, and Jessy Tickle as her mentor the following summer when she participated in the preschool's CIT program. Those two weeks as a Counselor In Training opened the doors of early childhood education for Paris and she has returned to the summer preschool program in increasing capacity every year following her Rainbow graduation.
Paris is currently attending Appalachian State University and taking online courses to finish up her Bachelor's Degree in Child Development and to obtain her Birth-Kindergarten Teaching License. She is excited for the opportunities to put her studies into action in the classroom.
On weekends, Paris can often be found babysitting (because she just can't seem to get enough time with kids), or home snuggling with her extremely cuddly dog. When she does go out with friends, Paris attempts to restrain herself from telling everyone to wash their hands, push in their chairs, and use their "kind words," with varying success.